NBC Announces Fall 2010 Premiere Dates: Chuck, Undercovers, and More!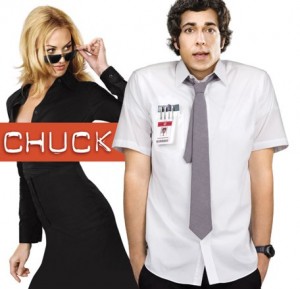 Chuck will start off the NBC Fall 2010 Season on September 20th. The show which will be going into its fourth season, just barely missed cancellation.  The show will be the lead in for two of NBC's new dramas The Event and Chase.
NBC also seems to be relying heavily on the new J.J. Abrams drama, Undercovers which premieres on September 22nd. Abrams has been a hot commodity in recent years, the director/producer has had a hand in pop culture phenomenon Lost, and has had a hand in FOX's Fringe. The director also recently started scoring hits on the big screen after directing the first in the new Star Trek series, and producing the small budget, hand held cam, monster movie, Cloverfield.
NBC has had trouble in recent years, at one time the network was a powerhouse with shows like Seinfeld, ER, Friends, and Frasier dominating the ratings, it has continually slipped to lower ratings over the past five years. It has also seen its share of controversy, such as the well publicized Tonight Show feud between Jay Leno and Conan O'Brien. Many felt the network was the cause of much of the problem.
It looks like NBC has a shot at picking up its ratings this year, and I'm excited to see the return of Community. I'm just hoping their new Thursday night comedy, Outsourced provides just as much comedy.
What do you think? Let us know in the comments!
Monday, September 20
8-9 p.m.                       CHUCK
9-10 p.m.                     THE EVENT
10-11 p.m.                   CHASE
Tuesday, September 21
8-10 p.m.                     THE BIGGEST LOSER
10-11 p.m.                   PARENTHOOD
Wednesday, September 22
8-9 p.m.                       UNDERCOVERS
9-10 p.m.                     LAW & ORDER: SPECIAL VICTIMS UNIT
10-11 p.m.                   LAW & ORDER: LOS ANGELES
Thursday, September 23
8-8:30 p.m.                  COMMUNITY
8:30-9 p.m.                  30 ROCK
9-9:30 p.m.                  THE OFFICE
9:30-10 p.m.                OUTSOURCED
10-11 p.m.                   THE APPRENTICE
Friday, September 24
8-9 p.m.                       SCHOOL PRIDE
9-10 p.m.                     DATELINE
10-11 p.m.                   OUTLAW
Saturday, September 25
8-9 p.m.                       LAW & ORDER: LOS ANGELES (Repeat)
9-10 p.m.                     CHASE  (Repeat)
10-11 p.m.                   LAW & ORDER: SVU (Repeat)
Thursday, September 9
8-11:30 p.m.                NFL KICKOFF – Minnesota Vikings @ New Orleans Saints
Sunday, September 12 (regular day and time)
7-8:15 p.m.                  FOOTBALL NIGHT IN AMERICA
8:15-11:30 p.m.           SUNDAY NIGHT FOOTBALL – Dallas Cowboys @ Washington Redskins