"Narnia" Tops the Weekend Box Office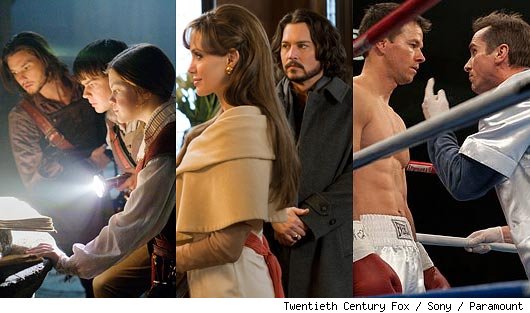 To say the weekend box office this weekend was weak is an understatement.  The weekend's two new releases were The Chronicles of Narnia: The Voyage of the Dawn Treader and The Tourist which saw a rating of 50% and 20% on rottentomatoes respectively.  So the question was if the combined star power of Depp and Jolie could overpower the family fantasy epic.  And the answer is no.  Narnia finished the weekend with an estimated $24.5 million.  The Tourist made $17 million.
The real excitement is with neither of these films.  Black Swan expanded the number of theaters it played in after an impressive opening last weekend.  Black Swan finished sixth overall with $3.3 million.  That's in only 90 theaters.  The studio has to be excited about the film's pending wide release.
The Fighter also made a huge opening weekend in its limited release.  The Mark Wahlberg boxing film only opened in 4 theaters across the nation but averaged $80,000 per theater making an estimated $320,000.  Not bad for a film that some are dismissing as just another underdog sports film.
Next weekend seems to be a no brainer.  How Do You Know, Tron: Legacy, and Yogi Bear all see wide releases.  The only question is exactly how successful will the new Tron be.  Early reviews suggest that the film is not as good as the hype.  But I doubt this will stop theater-goers from turning up for the 3-D spectacle.
1. The Chronicles of Narnia: The Voyage of the Dawn Treader                               $24,500,000
2. The Tourist                                                                                                                     $17,000,000
3. Tangled                                                                                                                          $14,559,000
4. Harry Potter and the Deathly Hallows Part 1                                                          $8,500,000
5. Unstoppable                                                                                                                 $3,750,000
How much money do you think Tron: Legacy will make?  Did you see anything in theaters this weekend?  Let us know in the comments below.