Enter to Win Passes to MY SOUL TO TAKE at the St. Louis Advance Screening!
MY SOUL TO TAKE OPENS OCTOBER 8 NATIONWIDE.
Enter for your chance to win a pass, good for two!
Synopsis: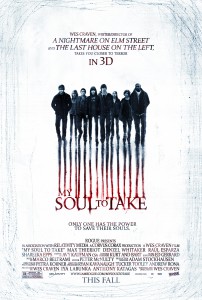 In the sleepy town of Riverton, legend tells of a serial killer who swore he would return to murder the seven children born the night he died. Now, 16 years later, people are disappearing again. Has the psychopath been reincarnated as one of the seven teens, or did he survive the night he was left for dead? Only one of the kids knows the answer. Adam "Bug" Heller was supposed to die on the bloody night his father went insane. Unaware of his dad's terrifying crimes, he has been plagued by nightmares since he was a baby. But if Bug hopes to save his friends from the monster that's returned, he must face an evil that won't rest… until it finishes the job it began the day he was born.
Rogue Pictures' MY SOUL TO TAKE has been rated R (Restricted – Under 17 Requires Accompanying Parent or Adult Guardian) for strong bloody violence, and pervasive language including sexual references.
In order to enter the contest, become a fan of ReviewSTL on Facebook and suggest ReviewSTL.com to all your friends (click the "suggest to friends" link on the left side of the page). Then post a comment on the ReviewSTL fan page telling us why you want to see the movie! NO PURCHASE NECESSARY. PLEASE REMEMBER TO READ THE RULES!
SCREENING IS THURSDAY, OCTOBER 7.
Good luck! We hope to see you at the movies!


[hdplay id=159 width=595 height=375]