IT'S KIND OF A FUNNY STORY Opens October 8! Enter to Win Passes to the St. Louis Advance Screening!
IT'S KIND OF A FUNNY STORY OPENS OCTOBER 8 NATIONWIDE.
Enter for your chance to win a pass, good for two!
Synopsis: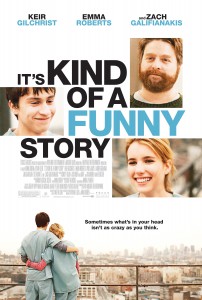 What's a 16-year-old boy doing playing music and table tennis with adult psychiatric patients – on a school day? It's kind of a funny story… It's @5:00 AM on a Sunday in Brooklyn. Craig Gilner is bicycling up to the entrance of a mental health clinic; this bright 16-year-old is stressed out from the demands of being a teenager. Before his parents and younger sister are even awake, Craig checks himself into Argenon Hospital and is admitted by a psychiatrist. But the youth ward is temporarily closed – so he finds himself stuck in the adult ward. One of the patients, Bobby, soon becomes both Craig's mentor and protege. Craig is also quickly drawn to another 16-year-old displaced to the adult ward, the sensitive Noelle, who just might make him forget his longtime unrequited crush Nia. With a minimum five days' stay imposed on him by the adult ward's staff psychiatrist Dr. Eden Minerva, Craig is sustained by friendships on both the inside and the outside as he learns more about life, love, and the pressures of growing up.
In order to enter the contest, become a fan of ReviewSTL on Facebook and suggest ReviewSTL.com to all your friends (click the "suggest to friends" link on the left side of the page). Then post a comment on the ReviewSTL fan page telling us why you want to see the movie! NO PURCHASE NECESSARY. PLEASE REMEMBER TO READ THE RULES!
SCREENING IS THURSDAY, OCTOBER 7.
Good luck! We hope to see you at the movies!


[hdplay id=158 width=595 height=375]