Music Interview: Erik Turner, Guitarist of Warrant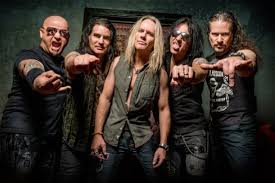 While the 80's and early 90's were Warrant's heyday, the band is still going strong, playing live shows and putting out new music, despite losing frontman Janie Lane in 2011 to acute alcohol poisoning. The band will be playing St. Charles Family Arena on Saturday, October 11 along with Firehouse and headliner Bret Michaels, the lead singer of Poison, another band that skyrocketed to fame in the 80's. 
Erik Turner, guitarist and one of the founding members of Warrant, recently took some time out of his schedule to chat about the band.
"We have a reputation of being a good time, a party band," Turner said. "That's what we've always been about, no heavy political messages or religious messages. Hopefully you will hear a lot of songs you know."
One album the band will be playing a heavy selection of songs from, is their first album, DirtyRottenFilthyStinkin'Rich. It's the 30th anniversary of the release of the band's first album. 
"We'll be playing nine songs off that record," Turner said. "You know, we had a few hits on that record. We'll be playing some songs off Cherry Pie too."
In 1992, Warrant released the record, Dog Eat Dog, which was a departure from the band's partying sound of the past. It was a darker, more mature album. The album was received well by most critics and many fans considered it one of, if not the strongest album from the band. Unfortunately, many also felt, unfairly, that it was an attempt to fit in to the rising grunge scene. Turner said he felt that the stigma around the album was unfair, given that the band recorded most of the songs before the grunge explosion. 
"It was written before all those bands," he said. "We were coming off Cherry Pie and while I can't speak for Janie, he wrote the entire album. I got the impression he was going for a sound that was more respected by our peers and musicians in our industry. It definitely was not trying to be Nirvana, Soundgarden or Alice in Chains. We liked all those bands. It was just great hardrock music. Dog Eat Dog was just him growing and maturing as a songwriter."
Turner said he thinks 80's rock or hair metal, whatever you want to call it, continues to live on with fans because it was just fun. 
"It was just good music," he said. "I think when people reflect on the 80's, glam metal, hair metal, whatever you want to call it, all the kids were going wild and having a great time. I think people just want to go out and have fun, especially with all the negativity in the world. When people hear these songs it takes them back to when they first heard them, whether that be in high school or college."
Turner talked a little bit about the band's past tours. Warrant toured with Paul Stanley just after the release of the band's first album. The band then did a short stint with Eddie Money, who recently passed away. 
"He was a great guy," Turner said. "Just a great man and was super cool to us."
The band also toured with the likes of Great White and Ratt. The band was given a slot on the Motley Crue Dr. Feelgood Tour after returning to the states from Japan. Warrant spent three months on the road with Motley Crue. 
Turner laughed when I asked him about touring with the Crue. 
"I think it was even crazier than the book and movie made it out to be," he said. "I think they kind of toned it down for that stuff. Some of that stuff is just not suitable for television."
Turner talked about how there was supposed to be no alcohol allowed on the tour. 
"We were told this was a no alcohol tour, so we were like okay, we will just go out after the show and hit the bars. Right before the first show, the manager walks in with 24 bottles of Jack Daniel's on a cart and said welcome to the tour boys. It was really cool, they were really cool to us. It was a great tour."
Turner said while on the tour, the band was playing in front of 15-20,000 people a night.
"It's an adrenaline rush," he said. "There's nothing like it. It's electric. It's an awesome feeling."
With it being the 30-year anniversary of Warrant's first album, I asked Turner if he expected to be playing shows yet today.
"No way," he said. "I kind of just lived one day at a time. If you would have asked a 25-year old Erik if he would still be playing at 55, I would have laughed. Nobody does that, but now everybody does it. People love it and the music is timeless."
You can catch Warrant at Family Arena on Saturday, October 12. Tickets are still available by visiting Familyarena.com.