'Much Ado About Nothing' Opens June 21 in St. Louis! Enter to Win Passes to the St. Louis Advance Screening!
Enter to win a pass for two!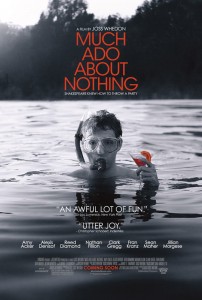 Shakespeare's classic comedy is given a contemporary spin in Joss Whedon's film "Much Ado About Nothing." Shot in just 12 days (and using the original text), the story of sparring lovers Beatrice and Benedick offers a dark, sexy and occasionally absurd view of the intricate game that is love.
Cast: Amy Acker, Alexis Denisof, Nathan Fillion, Fran Kranz, Jillian Morgese, Sean Maher, Reed Diamond, Clark Gregg, Tom Lenk
Director: Joss Whedon
Much Ado About Nothing opens Friday, June 21!
Use the contest app below to "like" ReviewSTL on Facebook  – then tweet, share, or comment for additional entries!
Winners will be chosen at random from all entries. Supplies are limited. Limit one (1) pass per person, passes admit (2) two. Sponsor's employees and their dependants are ineligible. Screening is overbooked to ensure capacity. Please refer to passes for any other possible restrictions. NO PURCHASE NECESSARY.
Screening will take place Monday, June 17 at Wehrenberg Ronnie's 20 Cine (7pm).