Movie Review: We're the Millers' Starring Jason Sudeikis, Jennifer Aniston, Ed Helms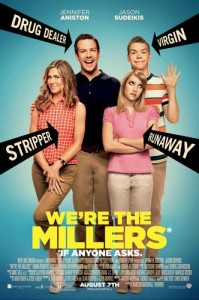 We're the Millers is not just your run of the mill family vacation movie. Much like the Chevy Chase Vacation movies of old, Millers is fun and entertaining to watch.
Jason Sudeikis and Jennifer Aniston star in their second comedy together. The first film the duo starred in together was Horrible Bosses. Millers comes off better than Bosses, as Sudeikis and Aniston again prove to be the strong point of the film.
Sudeikis plays David Burke, a small-time drug dealer, content with going nowhere in life. Burke lives in the same apartment complex as Aniston's character, Rose. While Rose is struggling to make ends meet as a stripper, she decides to help Burke smuggle marijuana from Mexico. In order to create a cover for his smuggling mission, Burke enlists the help of Kenny, a young nerdy neighbor played by Will Poulter and a young runaway girl named Emma, played by Casey Mathis. Once the family is intact, the Millers head out on a road trip in an RV for Mexico. Like in most family vacation comedies, there are some mishaps (a spider bite) and close calls (meeting a DEA agent) along the way.
Ed Helms also appears in the film, as a douche bag drug lord. Helms' character is particularly unlikeable. I know that was the point of his character in the film, but he comes off as such a smug asshole, it kind of takes away the enjoyment of the film.
While the film, directed by Rawson Marshall Thurber, drags at times, Sudeikis and Aniston have great chemistry together in the film. Aniston is great eye candy in the film. For an actress in her 40s, she is not afraid to show her goods. She's in skimpy underwear for more than once scene in the film. Personally, I had nothing against that. If you got it, flaunt it! As for Sudeikis, this film continues his progression from a Saturday Night Live cast member to a top-notch Hollywood comedy actor. He's probably one of the funniest actors in Hollywood at the moment.
We're the Millers may be a comedy about a family vacation, but it is not a family film. The laughs are crude and lewd at times and definitely not for anyone easily offended. I, myself, found it pretty enjoyable for the most part.
We're the Millers is a B.