Movie Review: 'Wanderlust' Starring Paul Rudd and Jennifer Aniston is a "Wander-BUST"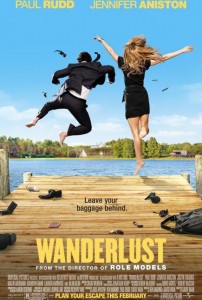 Have you ever wondered what it would be like to live care-free, with no worries of getting up and going to work or having to pay bills? What would it be like to live in a community where people helped each other, and share everything from their daily chores to the clothes on their backs. An average couple finds out what it's like to go from New York City to a hippy commune called Elysium in Wanderlust.
George (Paul Rudd) and Linda (Jennifer Aniston) are your average New York couple, living their fast-moving, high-stress lives in the middle of Manhattan. George goes to work one morning only to find his boss being taken away by federal agents; meanwhile Linda fails a pitch to HBO about a depressing documentary about penguins with testicular cancer. Without jobs or money, they are forced to leave their overpriced studio apartment and move in with George's obnoxious brother Rick (Ken Marino) in Georgia. But on their way there, George and Linda stop at bed and breakfast called Elysium, which happens to be a hippy commune inhabited by a care-free group of men and women who share everything. While at first the idea seems strange, they eventually find themselves going back to Elysium. However, Linda starts to fit in a little too well, and George starts to feel like the odd man out. He struggles to fit in and actually live care-free, and fears he may lose the woman he loves to the crazy idea that was his in the first place.
It is hard to put my finger on this one, as there were many funny parts throughout the movie – but in the end it just left me feeling a little empty. There was something about the pacing that was a little off, as the movie would just seem to drag for bits at a time. I think the premise is original and clever, and has the makings of a great comedy. There were parts that were genuinely laugh out loud funny. But then after they threw the same joke in your face for the tenth time, the one funny joke just seems lackluster. Yes – it is funny that there is a nudist. But after fifteen or twenty scenes, I think the audience has pretty much gotten used to it. I guess the idea of care-free hippies is funny at first, but once you realize what type of people they are it get's a little predictable and less shocking.
Paul Rudd has proven himself as a leading man in comedies like I Love You Man, and Role Models – which was also directed by David Wain. He is a charismatic guy, and I'm glad he has risen from the small character roles he used to get. He was good in this role, but not great. I think he did the best he could do given the material, and was probably the best thing about the movie. Jennifer Aniston, on the other hand, just doesn't seem to be able to play anything but the same character in everything. Her performance is dull and dry, and just doesn't seem believable. Where did the Jennifer Aniston we saw in Horrible Bosses go? That has to be one of her best comedic performances to date. Unfortunately she just seemed uninteresting in this one.
The movie has a pretty solid supporting cast. Alan Alda plays an old stoner-type hippie named Carvin that founded Elysium decades back with his friends, which we are reminded of plenty of times throughout the movie (one of those jokes that is funny the first ten times).  Justin Theroux, probably best known for his role in American Psycho before becoming Mr. Jennifer Aniston, plays the leader of Elysium who everyone looks up to. He provides the main conflict in the story as he threatens the relationship between George and Linda due to his infatuation with her.  He does a good job playing the over-the-top character, but get's a little tiresome after a while.  Joe Lo Truglio plays a nudist author / wine-maker who provides many of the laughs in the movie.  Malin Akerman is the counter-part to Theroux's character, as she openly shares her desire to get into bed with George.
Overall the concept is funny, and the cast is decent, but Wanderlust just didn't turn out as wonderful as you would hope for.  I think the writers could have done a lot more with the story, and been more creative with the characters. But instead we end up with a predictable color-by-numbers comedy that leaves you feeling like you are one color short of a finished painting. I would ditch this one for This Means War if you are looking for a Friday night date movie, and wait for a rental on this one.
Wanderlust is a C-