Movie Review: 'Tusk' Starring Justin Long, Michael Parks
"Is man indeed a walrus at heart?"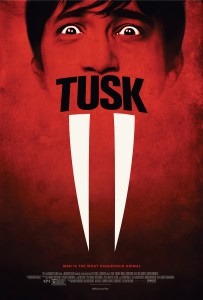 This is one of the pseudophilosophical questions posed in Kevin Smith's new film Tusk, the first film adapted from a podcast (see Smodcast #259 "The Walrus and the Carpenter"). Not so much a horror film in the traditional blood and guts fashion, the Clerks director's latest opus is more psychological – with plenty of humor mixed in throughout. And if you are a fan of the SmodCo podcast brand, there is no shortage of homage to be enjoyed.
Wallace Bryton (Justin Long) is one half of the duo who hosts the "Not-See Party" podcast, which centers around his travels to interview quirky internet celebrities (like the "Kill Bill Kid," who chops off his own leg with a samurai sword). Wallace then explains his story to Teddy (Haley Joel Osment) who did "not see" what happened. Upon packing his bags for Canada to interview the the aforementioned legless star, he leaves his girlfriend Ally (Genesis Rodriguez) in the States – stating that he basically doesn't want her to stop him from being entertaining. Ally is not a fan of his mean-spirited podcast antics, and wishes that the "old Wallace" she fell in love with would come back.
Wallace arrives in Manitoba only to find that the "Kill Bill Kid" has taken his own life, leaving him out the cost of his plane ticket and the interview he came for. As he drowns his sorrows at a local bar, he stumbles upon an ad posted by an old man who has lived "A life of adventure, with stories to tell." Intrigued by the posting (based on the real-life Gumtree ad by UK hoaxer / eventual Tusk associate producer Chris Parkinson, which inspired the podcast), Wallace travels a couple of hours to a secluded mansion owned by Howard Howe (Michael Parks). After a couple of fascinating stories, and some delicious tea, Wallace find out that he has been roped into much more than listening to the old man's stories.
Tusk is an absolutely fascinating film in many regards. Its origin is truly one of a kind, and to simply judge the film on its own merit would be doing it an injustice. With that being said, it may be Smith's best looking film to date. Fans of the director are well aware of his self-criticism when it comes to camerawork and directing. Yet his latest work is full of interesting angles and thoughtful framing. Yet the real story is how Smith took a fake advertisement and turned it into an entire podcast, meticulously crafting what immediately sounded like a horror film – and then actually made it happen. There are lines in the film that are taken straight from the ad, and also descriptions from the podcast that come to life precisely how Smith and SmodCast co-host Scott Mosier envisioned them. Tusk is much more than a "dopey idea" coming to life; Tusk is proof of what Smith has been saying for years about doing what you love and following your dreams. To be fair, the director obviously has more resources and connections than most. But at the same time, Tusk was about as big of a stretch as any movie that you'd never thing would be made – and it happened.
What the film really lives or dies upon are the performances by the intimate cast. And in that regard, it thrives. We see Justin Long acting in ways we have never seen before in his career, dealing with a traumatic and terrifying situation. You have Haley Joel Osment, 15 years after his role in The Sixth Sense, along with Genesis Rodriguez who both give emotional performances. And most importantly, you have Michael Parks giving it 110% as always, and who never seems to let us down. Parks is chilling, and despicable, and absolutely wonderful all at the same time as the villain.
In the end, Tusk does exactly what it set out to do, and executes its mission with perfection. If you haven't followed the journey starting from #WalrusYes to opening in theaters, you may not understand it. But for those who have been along for the entire ride, it just makes sense. If you are a fan of Smith's work and the View Askewniverse, you already know that you will see the movie. Yet even if you aren't, there is something so fascinating about the whole concept that never lets you look away from the screen no matter how much you want to. Do yourself a favor and listen to SmodCast #259 again after seeing Tusk, and tell me they didn't pull it off.