Movie Review: 'The Way Way Back' Steve Carell, Sam Rockwell, Liam James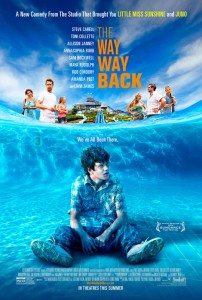 The Way Way Back is the definition of a summer movie. The film was great in its execution and shared quite a few similarities to a film that came out not long ago, Kings of Summer. The film focuses on the very fragile and socially complex world of being a young teenager living amidst the choices of our parents.
The film follows teenager Duncan played by up and coming Canadian actor, Liam James. He's a socially awkward kid, but it's easy to connect to Duncan, at least for me it was. Duncan is joining his mom Pam (Toni Collette) on a summer getaway journey with his mother's new boyfriend, Trent, played by the awesome Steve Carell and his daughter Steph (Zoe Levin).
The film opens to a dialogue between Trent and Duncan and we immediately get an idea of the kind of relationship the two have; it's not a pretty one. There seem to be a lot of reasons Duncan dislikes Trent. For one, Trent seems to just be an asshole – I didn't think it was possible to hate Steve Carell, but it is – and Trent constantly knocks on Duncan and his self-worth. Second, Duncan is very close to his mother and Duncan feels Trent is stealing time away from him – you'd think this is just in Duncan's head, because what adult would do that? Well, just remember as you watch the movie that Trent's an asshole. And to top it all off Trent's daughter is your typical on-screen "the world's not good enough for me" female teenager. I'm sure you can guess her and Duncan's socially awkwardness get along great.
The family (if you could call them that) makes their way to Trent's vacation home on the beach. There we meet Pam's friend Betty (Allison Janney) who easily steals the show in every scene she's in. Remember that drunken aunt who had no filter and in hindsight was awesome to be around, but at the time you hated it? That's Pam, and it's awesome to watch her. Her son Peter (River Alexander) is equally funny, in part due to a physical drawback that he later comes to embrace. Pam's daughter Susanna (AnnaSophia Robb) is part of the same group of friends as Steph, but you can tell she's outgrowing their petty view on life.
Upon Duncan's arrival you get the immediate sense that despite being in a beautiful area, that he's unhappy. He longs for his father, a trait he shares with Susanna – who immediately takes interest in Duncan's quirkiness. The two develop a funny and inspiring relationship due to both resenting their current circumstances. However, Duncan, not able to take the pressure of dealing with a father figure who doesn't respect him, sets out every day to avoid the confrontations. This is where he stumbles upon the Water Wizz water park.
This is where the film truly opens up. Here Duncan meets Owen (Sam Rockwell). Owen is a fast-talking, funny and care-free manager who seems to not take anything seriously. Owen and his boss Caitlin (Maya Rudolph) along with the other Water Wizz staff – Lewis (Jim Rash) and Roddy (Nat Faxon) – embrace Duncan into their world – a world full of self-discovery, perverseness, parties and friendship. Here we see Duncan grow as a person, he loses some of that social awkwardness (but, not all of it!) and starts to learn that being himself is alright – a particular awesome dance scene shows this.
Things seem to be going great for Duncan and you really start to feel happy for him. But as you can guess freakin' Trent has to go and ruin the show. This is what you can love about the film: for all the social problems that plague teenagers, it goes to show the adults' issues can be just as bad, if not worse. Trent and Pam have their own issues with their friends who come to visit, Kip and Joan (Rob Corddry) and (Amanda Peet). It's definitely not all sunshine, beaches and water in this movie and Duncan's life may forever be altered by the end of it.
In the end director/writers Nat Faxon and Jim Rash (the water park employees) have crafted an amazing tale of teen strife and parental complications. By the end of the movie you want nothing more than for Duncan to stay with Owen, but you know that's not possible. Instead, he's made lifetime friends who gave him the confidence to stand up to Trent, pursue his feelings for Susanna, and bond closer with his Mom. The ending isn't very "happy" by normal standards, but by the end, you feel content in knowing that everything will be just alright.