Movie Review – "The Trip" Starring Steve Coogan and Rob Brydon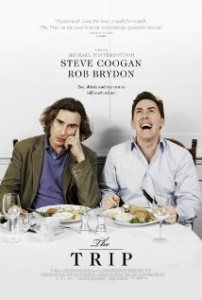 There are a lot of things that could go wrong with a film that is about a road trip with two comedian frenemies.  The egos of the comedians can shine through and become tedious and annoying.  The long drive through the country can become boring and repetitive.  The film can just feel long with the audience starting to look at their phone or watch about half way through the film.  "The Trip" suffers from none of these problems and is a fun ride all the way through.
Steve Coogan gets a job from The Observer to drive through Northern England and review some of the finer restaurants.  After his girlfriend decides they should go on a break and heads to America, Steve is left with asking his fellow comedian and sometimes friend Rob Brydon.  As the two bicker from restaurant to restaurant, we learn that Steve, the more famous movie star, maynot be as happy with his life personally and professionally than Rob, a small comic who has a wife and child.
While on film the two stars are constantly trying to outdo one another, it is obvious that they are great friends in real life.  And that chemistry shines on screen especially when you know that the two are improvising through the entire scene.  I am sure in the script it only said "lunch scene involving Michael Caine impression" or "drive through the countryside outdoing each other with a war speech".  These are the best moments in the film and constantly had me laughing.  But the film isn't just all laughs.  I love the reflective nature of the whole thing as Steve deals with not having exactly what he wants.
Reading up on the film I discovered that it was actually a six part mini-series on BBC late last year which means there is over an hour of footage left out of the movie.  I would certainly love to see what else the two talked about.  "The Trip" is definitely a trek worth taking.  This a far cry from other comedies released this summer like "The Hangover", "Bridesmaids", or "Bad Teacher", but in my opinion, it is the best.