Movie Review: "The Rock" Dwayne Johnson Brings it in 'Snitch'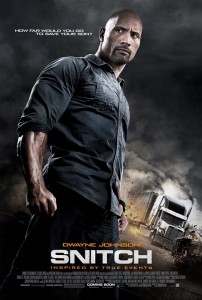 Let's get one thing straight, there's only one reason to see Snitch, and that's Dwayne Johnson.
Johnson, otherwise known as "The Rock", delivers the most rounded performance of his film career in the real life-based drama. The film centers around family man and business owner John Matthews' (Johnson) struggles in trying to free his son from jail. Unlike other Johnson films, Snitch is not action packed, but that is a good thing for the actor.
While Johnson's performance is solid, he is aided by other actors in the film. Rafi Gavron plays Matthews' son, 18 year-old Jason. Jason gets thrown into prison after accepting a package of ecstasy. Most of the film Gavron is seen behind bars beat to a pulp by inmates. It is here where the script falters. First, the audience does not get enough time to know Jason; in turn it's hard to feel sorry for the kid. Secondly, rather than show the audience the complexity and unforgiving side of the judicial system and it's cranked up drug laws, the director, Ric Roman Waugh, opts to give the audience some testosterone-fueled car chases.
Susan Sarandon and Berry Pepper both deliver solid and believable performances in the film. Sarandon plays Joanne Keeghan , a federal prosecutor more interested in getting re-elected than cleaning up the streets. Pepper is an undercover drug agent and he looks the part, sporting a long and dirty goatee.
Overall, if you are looking for an action-packed, non-stop thrill-ride, you will be disappointed with Snitch. But, if you're a fan of Dwayne "The Rock" Johnson this film is for you. It may not have all the bumps and slams that fans of Johnson are accustomed to, but it has heart. That coupled with strong character performances; make Snitch a worthwhile film to see.