Movie Review: "The Perks of Being a Wallflower"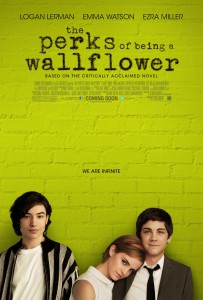 It isn't everyday that the writer of a famous novel also has the skillset to write and direct his own adaptation of his book. Such is the case with The Perks of Being a Wallflower, based on the best selling book of the same name. Writer Stephen Chbosky takes a stab at his own material, after a few successful turns as a Hollywood screenwriter, and lead creative on the short lived television show, Jericho.
Charlie (Logan Lerman) is entering his freshman year of high school, and despite having a popular sister as a senior, and a brother who was a former football star, is still friendless after his best friend took his own life the previous year. After a rocky start, Charlie quickly finds kindred spirits in the fearless and boisterous, Patrick (Ezra Miller), the beautiful Sam (Emma Watson), and his English teacher, Mr. Anderson (Paul Rudd), who sees the promise in Charlie. As Charlie begins to navigate the waters of high school with friends at his side, we slowly dive into his world, and the past that turned him into the shy and thoughtful introvert.
The Perks of Being a Wallflower takes us through a range of emotions. One moment we are laughing at the antics of Patrick, and the next we are cringing at what happens at the discovery of his relationship with a football player at school. It's things like this that give the film it's beauty. It doesn't gloss over the real troubles of teenagers. Most cinema is chock full of teenagers with vapid first world problems, and fail to show the struggle that goes on in the life of a teen. There are times where The Perks of Being a Wallflower shares the sensibility of a film like The Breakfast Club. On the surface you see smiling teens, but once you delve deeper you see dark pasts, current insecurities, and people are unsure of their futures. It's so easy to forget what it feels like to be at that age, and this film captures the feeling better than almost any teen film to date. Sure, most people don't have as dark of pasts as Charlie, Patrick, and Sam, but everyone has had their moments of breakdown.
The film succeeds in its efforts so well due to the solid direction of Chbosky who crafts the story with a love that could only be done by the writer of the source material. Chbosky shows a deft hand at directing a broad cast with a variety of different characters. Even though the film is firmly set in the early 90s, Chobosky goes out of his way to keep it slightly neutral in time, which gives it a timeless quality. It is a story that could be told in any decade.
Logan Lerman leads an impressive cast, and anchors the film with a performance that resonates with the audience. Lerman exudes a quiet innocence coupled with a striking intelligence. There isn't something quite right with Charlie, but despite it all, you want to make sure someone is taking care of him. Lerman has shown a lot of promise so far in his career despite his young age, and this might possibly be his best role to date.
Stealing the show, at times, is Ezra Miller who couldn't be more different from last year's role as the murderous Kevin in We Need to Talk About Kevin.  Miller is charismatic, hilarious, and brilliant as his turn as a high school senior who projects an attitude of not caring. Miller creates a character with a level of confidence that would be the envy of anyone.
There has been a lot of talk about Emma Watson's first major role since Harry Potter, and she should silence critics, as it is obvious she is more than capable of handling roles outside of the world of witchcraft and wizardry. Her American accent could possibly use a little work, but she handles the role with aplomb. The role could have easily devolved into cliche (much like the rest of the film), but it is instead endearing and fragile.
The rest of the supporting cast all play their roles, standout among them is Paul Rudd as the teacher who shows great affection for a lost student, and pushes him further. The additions of Kate Walsh, Dylan McDermott, Mae Whitman, and others,  round the film out to a robust cast that all hit their notes perfectly.
There aren't many negatives to say about The Perks of Being a Wallflower. Some might not like its slightly disjointed structure, but it fits the mind of its protagonist. The jumbled nature of the film mirrors that of Charlie's own emotions. If you are a fan of the book, you'll love the film. If you haven't read the book, but want a teen movie with a lot of substance, this film is for you.
Grade: A