Movie Review: 'The Odd Life of Timothy Green' Starring Joel Edgerton, Jennifer Garner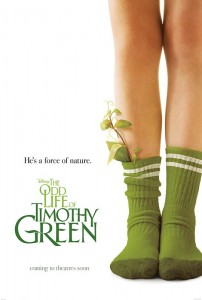 It always bothers me leaving a children's film not knowing exactly who it's intended audience is. Being that The Odd Life of Timothy Green is a PG Disney film, it certainly isn't for adults. But after watching it, I can't see kids 3-10 being entertained by it either. And there just isn't enough action or story going on to make it worth while for the older kids, who are infatuated with superheros and vampires. The idea of the story is touching, but in the end just feels like something is missing.
Jim (Joel Edgerton) and Cindy Green (Jennifer Garner) are two young parents who are faced with the unfortunate news that they cannot have children of their own. The doctor tells them that they "couldn't have tried harder," which was kind of funny for a kids movie, but I digress. That evening, Jim finds Cindy crying in their preconceived child's bedroom, where she tells him that she is done and ready to move on. But Jim says he is not ready yet, and asks why they can't have their child for just one night. So over a bottle of wine the two draw pictures and write characteristics on a notepad of what their child would be like, and they bury them in the backyard. The two go to sleep, only to be awoken by a child covered in dirt running through their house – whose name is Timothy (CJ Adams). And he calls them "mom" and "dad."
On paper The Odd Life of Timothy Green sounds like a cute, heartwarming family film. Just writing the premise of the story actually made me feel like I wanted to watch it again. But then I remembered just how poorly it was executed. I think the story, written by Ahmet Zappa who is writing and producing several films for Disney, is a good concept yet flawed. There are too many things that just don't make sense having this magical feat take place in the real world. Even if you can suspend your disbelief enough to come to grips with it happening, there are just way too many unanswered questions. The screenplay was written and directed by Peter Hedges, who penned What's Eating Gilbert Grape and About a Boy – so I was surprised to see this one fall flat.
As for the accomplished actors in the film, I am a big fan of Joel Edgerton. We know that he can act (see Warrior), and he is probably one of the best parts of the movie. But even with that being said, something just didn't feel right at times. There are things he says or does that just come off too forced or awkward and seem, frankly, a bit silly. But I can't fault him for playing the cards he was dealt. Jennifer Garner, on the other hand, over-acts the entire film. It was hard watching her in the role with how unnatural it felt. On the other end of the spectrum, I felt that CJ Adams was quite charming and charismatic as Timothy. He did a great job in the title role, and I can see a bright future ahead of the young actor.
What should have been an uplifting and heartfelt family movie with The Odd Life of Timothy Green, ended up feeling more like an over-produced Hallmark film. It had the potential to be a good movie, but there were just too many problems with the plot and script. I can honestly say that there is hardly anything in the film too keep a young theater-goer entertained, so I would keep anyone under at least 10 away. But even with that, I wish it had that magical spark that makes a good childrens' film entertaining for both young and old.
The Odd Life of Timothy Green is a C-