Movie Review: 'The Lorax' Starring Danny DeVito, Zac Efron, Ed Helms and Taylor Swift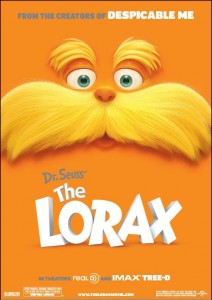 Growing up, Dr. Seuss was a huge part of my childhood. I read everything from "The Cat in the Hat" to "Yertle the Turtle" over and over again, and the books and cartoons will always hold a special place in my heart. I've even just read "Fox in Socks" to my two-year-old the other night. But one book that I probably never fully understood as a youngster was "The Lorax." The message the story holds is very powerful, and the film does a great job of entertaining while educating kids as well as their parents.
12-year-old Ted (Zac Efron) lives in Thneedville, a "plastic" town where the trees are manufactured and each one "uses 96 batteries" as the opening song indicates. Ted is infatuated with a neighborhood girl named Audrey (Taylor Swift), and conveniently loses his ball and crashes his remote controlled airplane quite often in her back yard. One day Audrey takes him to her back yard, and shows him the mural that she has painted over her entire house – nothing but blue skies and real trees. Unfamiliar with the concept of real trees, Ted is told by Audrey that they used to live in Thneedville and they provided the air for the town. She tells him that she would do anything for the person that could bring her a tree to plant in her back yard. This gets the wheels spinning in Ted's head, and he leaves determined to find a tree and win the affection of the girl of his dreams.
At the dinner table that night, Ted talks to his mom (Jenny Slate) and grandma "Grammy" (Betty White) about wanting to find real trees. His mother brushes off the idea, wondering why he would want dirty trees when they have such useful manufactured trees that change colors and seasons at the press of a button. But Grammy's interest is sparked by Ted's curiosity, and she sends him on a journey outside of the city to talk to the The Once-ler (Ed Helms) and find out the truth about what happened to the trees. He eventually tells Ted about his encounters with the Lorax (Danny DeVito), a creature that speaks for the trees to protect them. Eventually Mr. O'Hare (Rob Riggle) of O'Hare Air finds out about Ted's quest, and does everything he can to stop him from destroying the empire he has built by selling air.
The Lorax is everything that I love about animated films. It is beautifully animated, well voiced, has catchy songs and a great story that will entertain kids and parents alike. The film is animated by the same people who made "Despicable Me," and I have to say that it looks even better than it's predecessor. The colors are so rich and vibrant, and the computer animation is smooth and lively. It was truly a visual treat to watch, even in 3D. The technology has come a long way, and this is one of a few films recently that really comes to life with the added features.
The story is fun, and while the moral may still be a bit over the heads of most kids, it makes a lot of good points. The movie is full of beautiful nature and animals, which are put at risk once the trees start disappearing. It teaches people to be responsible with our natural resources, while making it much more fun than a lecture from an environmentalist group. The songs and visuals make for a fun trip to the theater, and at 94 minutes it's short enough to keep the attention of its target audience.
The Lorax is a B+