Movie Review: 'The Kings of Summer' Starring Nick Robinson, Gabriel Basso, Moises Arias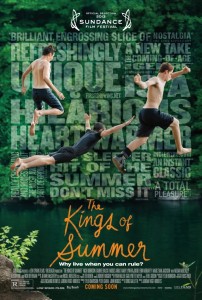 Every decade gets its coming of age movies. When we think of movies that have stuck with us, films like Stand by Me, The Goonies and The Sandlot come to mind. However, there is a sort of renaissance of these coming of age movies over the past few years. Films like 50 Days of Summer, Perks of Being a Wallflower, and Moonrise Kingdom are giving refreshing perspectives to audiences.  Kings of Summer is one of these films to address the coming of age story in a way most teens and adults can relate to. As I sat in the audience, I looked around and saw kids younger and couples considerably older. It says a lot about a film that's able to capture such a diverse crowd, especially considering the nature of the humor.  There was a sweet old lady sitting behind me who was laughing at things the teenagers in the front row were. She even went into film geek mode and started talking about her favorite parts to those around her; that makes me smile, humor is a universal language.
Kings of Summer is the feature film directorial debut of Jordan Vogt-Roberts. Vogt-Roberts' previous works include direction of the TV shows, Death Valley, Mash Up, Single Dads, and Funny or Die Presents. What Vogt-Roberts and first time feature film writer Chris Galletta have put together is a mesmerizing tale of 3 friends and their desire to be in control of their own destiny, to give the middle finger to the card the world has dealt them.
The movie begins by introducing us to Joe who is played by the talented Nick Robinson. Joe lives with his dad Frank, played by Parks and Recreation star Nick Offerman. As the movie unfolds we learn that Joe is dealing with the loss of his mother and trying to cope with handling his father – who is struggling raising his son alone – who he doesn't seem to connect to or understand. This is a refreshing role for Offerman. We usually see him in purely comedic roles and it's nice to see the actor prove to us that he shouldn't be type casted. It becomes increasingly apparent Joe was closer with his mother by the way he interacts with his sister, played by Community's Alison Bre. Joe's best friend Patrick, portrayed by Gabriel Brasso is the victim of a less traumatic but equally heavy burden – overbearing parents.  The third friend, the highly loveable and strange Biaggio, played by Moises Arias, seems to be an outcast who arrives in the film in almost stealthy fashion and turns out to easily be one of the best parts of the film.
The story revolves the group and their desire to escape, to find a way to flee the monotony that has become of their lives. Joe convinces Patrick – Biaggio kind of just tags along – to help him build a genuine haphazard house in the middle of the woods; a place where they can be their own boss, free of their parents. The house is put together through odd ends and parts salvaged; it looks exactly what you'd expect a house built by teenagers to look like – the fact that it doesn't leak during a rain scene is questionable (if 16 year-old me built it, it definitely would have leaks). With the house built the group sets out enjoying the wilderness, learning to live off the land – by hunting wild chickens with swords – and passing time by drinking beer and making music. Being teenagers, however, something is missing for them; as Joe says, "the touch of a woman."
Joe's love interest is Kelly, played by Erin Moriarty. She joins the boys at the retreat with a few of her friends, one particularly takes interest in Biaggio and his reactions are priceless. At this point Joe is on cloud nine. He has his friends, freedom, and girl of his dreams. Joe's hopeful, he expects to finally connect with Kelly. But as with most things in life, things don't go as planned and Joe ends up feeling betrayed by Patrick and chooses to isolate himself from the group. This is where the film really surprised me. Up until this point we're given a very different film that hinted at its potential. It's at this point we find the film taking a much more serious turn into the mind of a teenager who feels the world has betrayed him. It's not till we're near the end when Joe has an encounter with a deadly forest animal – most certainly a symbolism for his troubles – are we treated to the portion of the film that allows us to truly connect with Joe's feelings.
The movie is beautifully shot, thanks to cinematographer Ross Riege who comes from the same camp as Vogt-Roberts. We're treated to a gorgeous and artistic view of the world and some jarring and unexpected slow motion scenes. The music blends well with the overall atmosphere of the film. In fact, the soundtrack is downright amazing. One scene involving the boys making music with sticks stuck with me. Immediately after the film, I bought the soundtrack online to listen on my way home. I rarely do that. Dry humor is the driving force behind this film. Things like Biaggio's demeanor, Patrick's odd and loveable parents, and Frank's sarcastic outlook give this film its character.
All in all, I went in not sure what to expect and I left feeling refreshed. I highly recommend going with family and friends, everyone will find something to relate to in this film. This is in every sense of the term a 'summer movie.' It provides unique laughs, beautiful scenes, love and loss, and never takes the audience's intelligence for granted. This was a great way to start the summer movie kickoff.