Movie Review: 'The Interview' Starring Seth Rogen, James Franco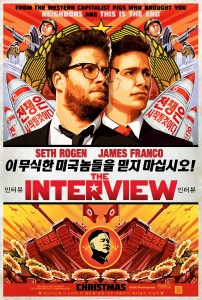 First it was on, then it was off, now it's on again, sort of. The Interview, a comedy starring James Franco and Seth Rogen has been one of the hottest topics in the entertainment world this past week. Thanks to the reaction of many after the film was taken out of theaters, it's not gotten a new lease on life. It's now become an act of patriotism to see this film. Looking at it as a way to defy a dictator, I used my debit card and fed my television $6 to do my part in protecting freedom of speech. God Bless America!
Regardless of how funny The Interview is, it will forever go down as the film that upset North Korean dictator Kim Jong-un so much that he declared it an "act of war."
Now that I have seen the movie for myself, it makes me laugh to think that theaters were scared to show the film, as it's truly nothing more than a sophomoric comedy.
James Franco plays Dave Skylark, a self-centered celebrity talk show host. Seth Rogen play Aaron Rapaport, Skylark's uptight producer.
Make no mistake, the best parts of the film revolve around Franco and Rogen. The two are comic gold together. While most of the jokes in the movie are hit and miss, the jabs that are taken at North Korea and the United States are effectively done.
One of the funniest moments in the film happens near the beginning when Skylark is interviewing Eminem, in a nicely done cameo by the Detroit rapper. During the interview with Eminem, the rapper comes out to Skylark as being gay. (The rapper said he's left "a bread crumb trail of gayness in my songs.") Franco's facial expressions of surprise and shock make the scene that much funnier.
Following the show, Skylark receives a letter from Kim Jong-un. In the letter, Skylark learns that the North Korean leader loves his show, along with Big Bang Theory, and states that he will score a one-on-one interview with the dictator.
After a night of reckless partying, the duo are awakened to a pair of CIA Agents knocking at their door. Lizzy Caplan, of Master's of Sex, plays CIA Agent Lacey. The CIA has hatched a plan for Skylark to take out Kim. ("What do you mean, you want us to take him out?" Skylark asks Agent Lacey. "You mean out to dinner?")
The film takes an unbelievable turn when Skylark and Rapaport arrive at Kim's compound in North Korea. Skylark develops a man-crush on Kim, who turns out to be an overly-sensitive, margarita-drinking, Katy Perry-listening, basketball-playing cool guy. There's no doubt that North Korean officials probably disliked the way Kim is characterized, rather than the assassination plot.
Franco is at the top of his game, mustering all the comedic energy he can to play his clueless character.
Rogen continues to grow as a comedic-actor. The nervousness he displays in the film, leads you to believe he could explode at any moment.
Director Evan Goldberg teamed with Rogen and Franco previously for "This Is The End," a much funnier and creative film, however that does not mean The Interview is not without its funny moments. A scene where Rogen's character must hide a large vile of poison in his derrière, evokes some of the biggest laughs in the film. There is also a bit of token racist jokes ("they eat dogs in Asia?") but there is enough wit and wit and humor to hide the atrocities of famine and prison camps in North Korea.
Personally, I'll watch Rogen and Franco act together on just about anything, as their bromance goes back to their high school days as cast members of "Freaks and Geeks," but this comedy is more about with bodily function jokes than Kim Jong-un.
While Chaplin spoofed Hitler for The Great Dictator, "Doctor Who" had an episode called "Let's Kill Hitler," and we cannot forget the number of singing and ice-skating Hitlers in Mel Brooks' films. I will not bother to run through the number of Soviet villains Hollywood made films about out during the Cold War. North Koreans played the villains in "Olympus Has Fallen" and "Team America: World Police," but it was Goldberg and Rogen's satire that set off a multinational incident.
The films itself is no classic, as I give it a grade of a B, but The Interview has become a modern-day, legendary film thanks to the hackers. People with no interest in bromedies have had their interests piqued due to the hackers demands. Americans do not like being told what we can and can't do, so we will order, or go to a small theater to see The Interview just to show North Korea that you can't mess with America and get away with it.
Perhaps Franco's character hit it on the head with the reason North Korea is so up in arms over this film. "They hate us, 'cuz they ain't us," his character quips throughout the film.