Movie Review: 'The Big Year' Starring Jack Black, Steve Martin, Owen Wilson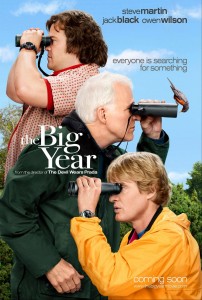 If you were to tell me that a movie about bird watching could be entertaining, I would probably call you crazy. When I think of someone "birding" I think of my grandma, not three comedians well under 70. Well, two at least. But if we had made a bet, I would surely be the loser – as The Big Year is a fun movie with a lot of heart.
Brad Harris (Jack Black) is a computer programmer who wants to see more birds in a year than anyone else has ever seen. When he tells his friends and family that he is going to do a "big year" as it is known, they think he is out of his mind. But birding is his only real passion, and he wants to beat the record held by Kenny Bostick (Owen Wilson), who is known for seeing 732 birds in one year. Coincidentally Bostick wants to do the same thing, threatening his relationship with his wife Jessica (Rosamund Pike) as they try and have a child. Along the way, the two cross paths with retiring businessman Stu Preissler (Steve Martin) who is leaving his company for the second time. Stu has the full support of his wife and family, knowing how much it makes him happy, and they let him set out on his mission to see the most birds. Did I mention that all three of them are keeping their big year a secret?
I have never really been a huge fan of bird watching, but The Big Year was surprisingly enjoyable. I have to give huge props to Howard Franklin for writing a clever and well-paced script from Mark Obmascik's novel. Director David Frankel (Marley & Me, The Devil Wears Prada) keeps things moving along, and turns what could have been a snoozefest into a fun and fast-paced movie.
Jack Black is really toned down for this role. He has been typecast into the eccentric characters that he is now best known for, but this movie takes me back to his roles in High Fidelity and The Cable Guy. Black plays a really likable character, and gives a performance that could turn even non-Jack Black fans into believers. Brad is an innocent, genuine person who wants to be accepted by his peers and father for what he loves. As cliché as it might sound, it works.
Owen Wilson and Steve Martin are great as two characters who appear to be the only real competition. Wilson's character Bostick is a successful general contractor, and has the money to fly himself around the country snapping photos of rare birds. Preissler, played by Martin, is the same way – as the retiree of a successful Fortune 500 Company. Their chemistry, or rather rivalry, is fantastic and the two play well off of each other. Wilson plays a less cocky version of his usual characters, keeping just enough balance to keep you wondering as to whether or not you like him. Steve Martin and Jack Black also are great together, and their on-screen friendship is one of the more enjoyable parts of the film.
Brian Dennehy is great as Brad's father, who doesn't care for his son's hobby. Although it kind of a stereotypical parent figure not understanding / caring about / supporting their son's passion, Dennehy fits the role to a T. Brad's mother, played by Dianne Wiest, is the voice of reason as she supports her son as his travel agent / financier. The two play well off of each other as their son hopelessly follows his dreams.
If you are having doubts about seeing The Big Year because it is about birds, take it from me – it doesn't matter. Even if you can only name one bird, because it happens to be your favorite baseball team or a national symbol, you will still enjoy the movie. The characters and story are likable and intriguing enough to make any type of competition work, regardless of subject matter. The movie keeps things moving along as it jumps between three separate story-lines that come together for a lighthearted comedy that is sure to put a smile on your face.
The Big Year is an A