Movie Review: 'Shame' Starring Michael Fassbender, Carey Mulligan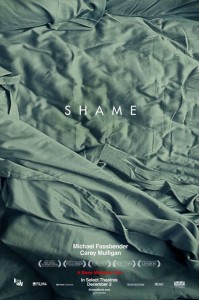 Shame is English artist and director Steve McQueen's second film, once again painting his picture with Michael Fassbender as his subject. McQueen tells the story of a man who is lost, something most of us can relate to, using sex addiction as the catalyst to propel his story. The constant need for pleasure turns into a shameful, torturous existence for the main character as he feeds his hunger.
Brandon (Michael Fassbender) is a man who struggles with a constant addiction to sex. It has become such a part of his everyday life, that he appears to be numb to it. He goes through life thinking about nothing but sexual urges, from the time he wakes up until he goes to bed. To Brandon, sex is in no way connected to intimacy. As soon as there's any mention of a relationship or feelings his libido, once easily aroused, becomes dormant. An unexpected visit from his sister, Sissy (Carey Mulligan) turns Brandon's life upside down once memories of their trouble past come out of remission.
Michael Fassbender gives a bold and visceral performance as the troubled sex addict. At times his pain and numbness feels so real that you can't help to feel sorry for anyone who is as lost as his character. McQueen and Fassbender prove to be an effective duo once again, following their work with Hunger. His tension with Carey Mulligan on-screen is obvious, as his character deals with his feelings much differently than her's. Brandon's lifestyle is abruptly disrupted with his sister's sudden appearance, and Fassbender does a fantastic job portraying his struggle.
Being an accomplished artist, McQueen has no problem painting his dark and beautiful picture from beginning to end. The film is shot beautifully, capturing every troubled emotion meticulously from start to finish. Most of McQueen's art is dark, and the film definitely follows suit. It doesn't hide the truth and reality that addiction and struggle is a part of life for many. The subject of his film lives what appears to be a normal life during the day, yet is constantly struggling. McQueen does a great job of capturing the pain that Brandon goes through, and how he copes with every day pressure with his addiction.
There is definitely a reason that Shame is rated NC-17. The film does not hold back when it comes to sex and nudity, so be advised going into it. Michael Fassbender really puts himself out there, and you have to give him credit for taking on such an uncensored role. But the nudity is all about making the subject that much more real, and proves how numb his character is to the lifestyle he has come accustomed to.
Shame is an excellent film, and proves that artist-turned-director Steve McQueen has a bright future ahead of him. It tells a story that is more real than most people could probably ever imagine, and helps us to better understand what others are going through and just how helpless it can be at times.
A