Movie Review: 'Rush' Starring Chris Hemsworth and Daniel Brühl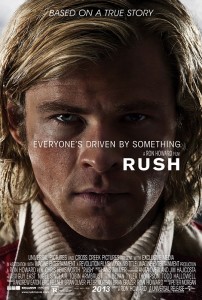 At first it is easy to write Rush off as another Hollywood effort to put a pretty face behind the wheel of a fast car. Ignore that intuition, and watch and be awed by its performances and high octane action.
James Hunt (Chris Hemsworth) and Niki Lauda (Daniel Brühl) are as close to arch-enemies as you can get.  The two have very different approaches to their careers, but both have their eye on the same final goal. Lauda is a very serious man, who is calculating and very ambitious. It is these very same qualities that put him at odds with the brash James Hunt, a man who revels in celebrity. The film follows their fledgling careers as they go from Formula 3 racing to the prestigious Formula 1 circuit.  The film takes you every step (and misstep) of the way as their rivalry builds, and eventually transcends into a mutual respect for each other.
The film has two distinct leads, both with the same goal, but with different motivations.  The contrast between these two characters gives director Ron Howard the opportunity to hold the audience in suspense. Much of the marketing is pushed around the attractive Chris Hemsworth, but this is just as much Daniel Brühl's film. Their characters are the antithesis of each other, but midway through the film its hard not to root for both of them. Howard works magic  by clearly defining the driving force between both characters, so that despite only one character able  being able to win, both reach a very satisfying finale.
It isn't much of a surprise that much of the marketing features Chris Hemsworth. His rise is sure to be meteoric after his appearance as Thor throughout the Marvel series.  Women will find him easy on the eyes, and men will appreciate the masculinity he brings to the screen. What more people should notice is that he's a fine actor.  Hemsworth gives a complex performance as the jovial Hunt, and presents him as a man with a number of issues that go beyond a mere love for competition.
People will be most familiar with Daniel Brühl for his role in Tarantino's Inglorious Basterds, and might find it hard to recognize him with the false teeth he wears in Rush.  Brühl has been quietly making a name for himself in foreign cinema, but will likely start finding a bit more success in Hollywood because of his role in this film. Brühl has the harder sell of the film, he isn't handsome, he isn't charming, in fact he almost comes off a bit autistic in his nature. He shuns social contact to focus more on his driving.  He is straightforward in his approach when he knows he is better. Its enough to make his contemporaries dislike him, and same can be said of the audience for a while. Brühl adds a bit of depth to the character that gives him vulnerability, and by the end of the film its hard not to admire him.
The film is loud, fast paced, and full of vibrant color that enhances the action. Howard proves to be a deft hand at directing racing footage, and even for those not interested in racing, the appeal is apparent. By crafting a great story behind the racing, the film becomes a top notch action film.
Rush isn't mindless entertainment. It doesn't shy away from the dangers of racing, and it sure doesn't sugarcoat its leads. Despite its danger, it is never hard to watch.
Grade: A