Movie Review: NEXT GOAL WINS Starring Michael Fassbender, Oscar Kightley, Kaimana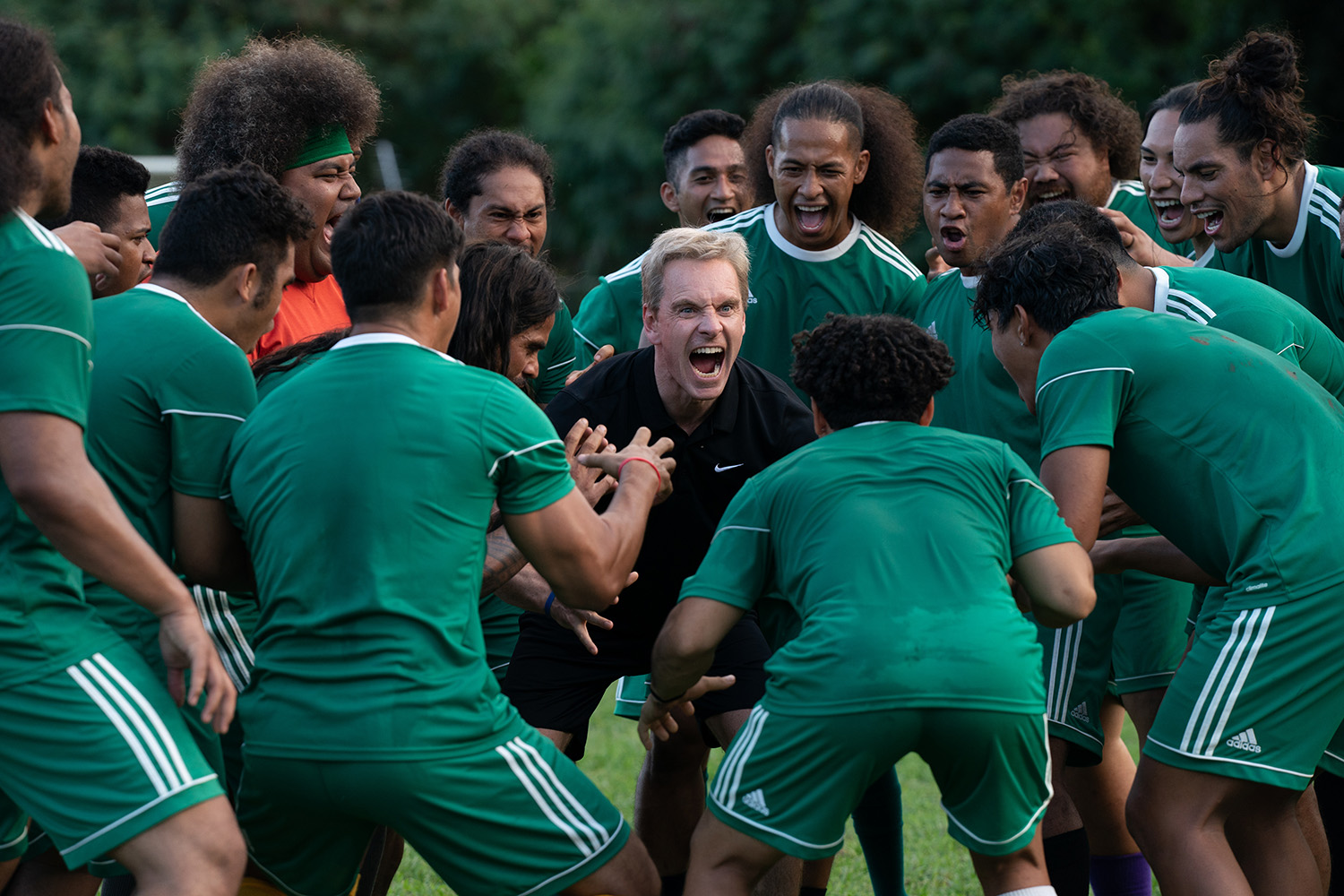 Part of the fun of seeing a movie is trying to guess how it ends, at least for me. Whether it's a whodunnit mystery or the latest thrilling action movie, I like to try and gather clues during the movie to see if I can figure out what's going to happen.
That's a little tougher to do in the case of films that are "based on a true story/true events," especially events that can be easily researched. The outcome of the US/Soviet game in Miracle, for example, is so well-known it's unlikely many people went into the theaters not knowing what would happen in the climax of the film. Still, it's one of my favorite sports movies ever, as it was so incredibly well-made and performed, I couldn't help but cheer; when the final buzzer sounded, I joined in the on-screen elation.
It's that same feeling that came over me in the waning moments of Next Goal Wins, the newest Taika Waititi film featuring Michael Fassbender. Based on American Samoa's efforts to qualify for the 2014 World Cup, a quick online search can confirm that they [Spoiler alert!] did not, in fact, win the World Cup in 2014.
For this team, though, that didn't matter. In fact, their main objective wasn't even to win pool play to qualify for the World Cup. They simply wanted to score a goal for the first time in World Cup history. To accomplish this, they turn to Thomas Rongen (Fassbender), a Dutch-American coach who spent most of his pro playing and coaching career in the US. Although he had some early success in the nascent MLS, his career sputtered after he took over the U20 US men's national team. Fired from his position, he's given the opportunity to coach the American Samoa team, ranked dead last in the world. Not only had they never scored a goal during World Cup qualifying, they were on the receiving end of the most one-sided game ever, a 31-0 loss to Australia in 2001.
So…yeah. They aren't expecting a miracle run to the finals of the Cup. Rather, as Football Feration of American Samoa director Tavita (Oscar Kightley) states, they simply want to score one goal. To try to accomplish this, they have to rely on essentially a ragtag team comprised of players who like soccer, but don't treat it as the end-all, be-all that Rongen often does. It's almost a reverse-scenario "Ted Lasso" at times.
The film makes a small effort to introduce some of the individual players, but perhaps only two truly stand out. The first is Nicky Salapu (Uli Latukefu), who was the goalie for American Samoa in the infamous 31-0 game. Initially hesitant to rejoin the team when Rongen asks, he changes his mind in an effort to exorcize the demons from that game. Apart from Nicky, though, the one player that steals the scene just about every time is Jaiyah Saelua (Kaimana, in what I believe is their acting debut). A talented player, Jaiyah made history when they became the first non-binary player to participate in the World Cup; Jaiyah is a faʻafafine, a recognized third gender in Samoan culture. Kaimana ends up sharing a lot of screen time with Fassbender, and more than holds their own; they play off each other well, in both tense and leisure moments, and hopefully this is the start of a bright career for Kaimana.
For the most part, it's a pretty formulaic film. Rongen is portrayed as an angry, bitter, somewhat alcoholic man who initially has absolutely no desire to be there. Gradually, he is won over by the kindness and love shown by the residents of American Samoa, who also slowly change their ways and take his coaching more seriously. There isn't anything groundbreaking about the plot of the film, but it is presented to the audience in the lighthearted, quirky manner we've come to expect from Taika, who plays a small role as the island's priest and opening narrator. Although there are some serious moments, such as when Rongen deadnames Jaiyah, overall the film is meant to be an amusing, uplifting underdog story, and it does it well enough. I found myself chuckling at quite a few quips, and the film is paced well enough that I never felt like it was dragging. Next Goal Wins clocks in at 103 minutes, which felt like a reasonable length.
It should be noted that they understandably took some liberties with details for the sake of entertainment. Although the final score of the Tonga game is accurate, much of the action was altered or outright fabricated, from the order of goals scored to who scored them. There is also a subplot involving Rongen's daughter that they appeared to have taken some small liberties with, but nothing serious enough to detract from the film.
Overall, it's a fine inoffensive film that at the very least presents the opportunity to learn about another real-life underdog story. It is rated PG-13 for language, but otherwise parents shouldn't have any qualms about letting their children watch it. It isn't groundbreaking, by any means, but it's fun, and given the success of St. Louis City SC in its debut season, it's one more chance to see some soccer…er, football…action before winter sets in.
Next Goal Wins gets a B-