Movie Review: TROLLS BAND TOGETHER Starring Anna Kendrick, Justin Timberlake, Camila Cabello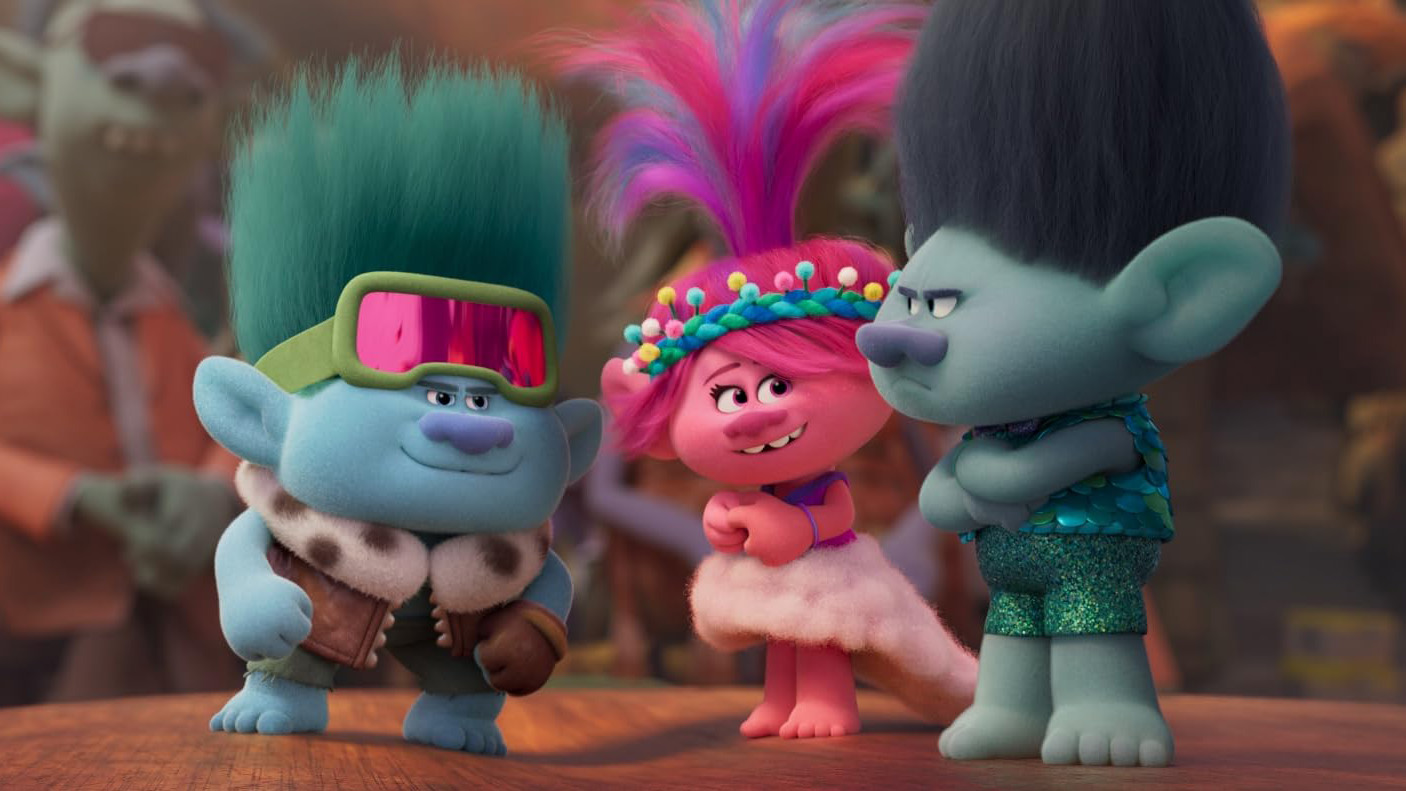 There is nothing wrong with living a life without pants.
(That sentence makes way more sense if you've seen Trolls Band Together. So go see it, then come back to this and re-read it.)
You know, I'm going to be honest with you. If I had a billion dollars for every time I thought to myself, "I should watch the Trolls movies," I'd have…the same amount of money I do now. It's safe to say these movies don't exactly fall into my wheelhouse. I think I had a Troll doll years ago as a child, but I couldn't tell you where it went. And I'm admittedly not much of a musical fan. But my friend Anastasia expressed interest in seeing it, so I decided to expand my horizons a bit.
Trolls Band Together serves as a sequel to the second film, starting with a flashback to BroZone's attempt to go on tour, which ends disastrously after the band fails to attempt the perfect family harmony, prompting the four oldest brothers to go their separate ways, leaving baby Branch (Justin Timberlake) under the care of their grandmother.
Twenty years later, Branch has disavowed BroZone as well as his brothers, even hiding the fact that he was in BroZone from his girlfriend, Poppy (Anna Kendrick). Despite this, the two are content to live their lives until the oldest brother, John Dory (Eric André) drops in, begging for his help. It turns out pop duo sensations Velvet (Amy Schumer) and Veneer (Andrew Rannells) are holding their brother Floyd (Troye Sivan), the one sibling Branch appeared to be closest to, hostage, stealing his musical ability to prop up their own careers. So off they go, searching for the rest of the brothers, riding in an armadillo that behaves like a dog and whose vocalizations sound like a Wookiee.
Yeah, it's a thin story, but based on the demographics of the screening, I don't think that's going to have a huge impact on the audience. Trolls Band Together is a kids movie through and through, but that doesn't mean parents or guardians are going to be bored out of their minds for 90 minutes. A musical is only as good as its music, and thankfully there's a little bit of everything for moviegoers of all ages. With songs ranging from the 70's to today and styles ranging from Dolly to modern boy bands, it was easy enough to find your head swaying during certain scenes. It certainly helps that the star-laden cast has some more-than-capable vocal talent, as almost all of the cast has considerable musical experience (Timberlake, Kendrick Camila Cabello, Kid Cudi, and so on), and the mixing is superbly done so the transitions from song to song are seamless. N'SYNC even contributed a new song, "Better Place," to the soundtrack. Some of the lyrics in a couple of the numbers have been amended to be a bit more kid-friendly, but it shouldn't detract from people's enjoyment.
The visuals are vibrant and well done for the most part; Anastasia singled out some individual items such as the trees and the golf course as standouts. The animation for the Trolls and their friends is also a strong point, but I did find the character designs of the antagonists to be almost elementary in comparison. Their visual style reminded me of the terrible early CGI acting as segues for children's shows in the early 2000s.
Still, the characters themselves were well-performed. The film features an ensemble cast, so practically every voice you hear is someone whose name you'll recognize. I think most kids will end up finding a character they'll enjoy the most. For me, it was Crimp, the meek yet capable assistant to Velvet and Veneer (sidenote, I'm noticing a personal trend here, as during the first season of "Ted Lasso," Nate was one of my favorite characters). Played perfectly by Zosia Mamet, I couldn't help but feel a bit of sympathy for her, and I was glad she got some fulfillment in the end of the film. Anastasia claimed Poppy as her favorite character but also singled out Velvet and Veneer.
Clocking in at 92 minutes, Trolls Band Together is a pretty short film, as is to be expected for a children's movie. Still, I think most parents will find enough to enjoy in the movie that they won't be constantly checking their watches. They picked quite a few 70s and 80s songs for their medleys, and even some 90s and 2000s alternative/pop. And there's also a few adult-oriented jokes that they'll pick up on.
Bottom line, Trolls Band Together is a solid, entertaining children's film. When I asked Anastasia how it compared to the first two films, she was pretty quick to say, "I preferred the story of this one compared to the second Trolls movie (Trolls World Tour). The original is still the best." She gave the film a B+, which is slightly higher than my grade, but as she's also familiar with the universe, perhaps fans of the franchise will appreciate it more. Still, you don't have to see the first two or be a Troll expert to enjoy it. It might also be the last time you won't have to hear Christmas music for the next month and a half (looking at you, Mariah Carey).
Trolls Band Together gets a B-