Movie Review: 'Mission Impossible IV: Ghost Protocol' Starring Tom Cruise, Jeremy Renner, Simon Pegg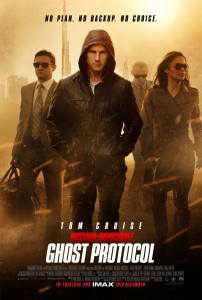 It's been five years since we've seen Ethan Hunt and the IMF team. Mission Impossible was in theaters nearly 16 years ago, yet somehow Tom Cruise doesn't seem to have aged a bit. But once again, Cruise proves that he still has what it takes to make one hell of an action movie.
In a failed attempt to track down nuclear launch codes for Russian missiles, agent Hanaway (Josh Hollaway) is gunned down by female fatale Sabine Moreau (Léa Seydoux). Meanwhile Ethan Hunt (Tom Cruise) is doing time in a Russian prision, but it's not long before the agency breaks him out in an attempt to track down the killer – and a mysterious enemy codenamed Cobalt (Michael Nyqvist) who plans to use the codes. But the IMF is abruptly shut down when plans go wrong and they are framed for a bombing at the Kremlin. Ethan and his team are forced to evoke "Ghost Protocol," where their organization is essentially dismembered and unrecognized by the US government. While trying to recover the launch codes and save the world, if any of them are caught they will be treated as terrorists.
Ethan is joined once again by Benji (Simon Pegg), as well as by newcomers Jane (Paula Patton) and Brandt (Jeremy Renner). This is one of my favorite teams so far in the MI films. Pegg does a great job as the geeky techno-agent who is always coming up with new gadgets to aid the team. Pattens character is tough, yet is going through a range of emotions while dealing with the loss of her former teammate Hanaway – who she was also romantically involved with. Renner by far is the best addition though, as he keeps up with Cruise in the badass secret agent arena. The entire team makes the movie a whole lot of fun to watch.
It's great to see Michael Nyqvist breaking out after his roles in the Swedish 'Mellennium Trilogy' films. After seeing him as the good guy for the past few years, its a bit strange to see him reverse roles – but Nyqvist does a great job. His portrayal of a bad guy who thinks he is doing the world a favor by destroying it with nuclear missiles is chilling and sinister.
If there is one thing you can say about all of the 'Mission Impossible' films, it would have to be that there is never a shortage of action. The fourth film in the series is no exception. Everything from the chase scenes, to Tom Cruise scaling the side of the world's tallest building without any safety equipment, to the car chases and the fight scenes are beautifully executed. There is never a shortage of thrills, and the fast-paced nature of the film keeps you on the edge of your seat from beginning to end.
Many of the scenes were filmed in IMAX, and I have to say that if you can watch the film this way it is well worth it. There are many times I haven't been blown away by IMAX shots in other films, but I have to give it to director Brad Bird for making it work. The film starts out with a beautifully shot chase scene that takes full advantage of the larger film, as well as do several scenes throughout.
You have to give credit where credit is due, and that means saying that Tom Cruise is who makes these movies great. Not only has he starred in the four films so far, but now he is also responsible for producing them and getting them made. And at almost 50 years old now, which he looks far from, he still proves that he is an A-list action star. Cruise is as charismatic as ever in this film, and has no problem keeping up with his younger co-stars.
If you are looking to have some fun at the theater, there is no better choice right now than Mission Impossible IV: Ghost Protocol. The film has all the great makings of a secret agent action / thriller, and is the best in the franchise since the first movie was released in 1999. IMAX makes for a great experience, but don't let that hold you back from seeing on any big screen. no matter how you see this one, it is going to be a lot of fun. 'Ghost Protocol' is by far one of the best action films of 2011.
Mission Impossible is a B