Movie Review: 'The Girl With The Dragon Tattoo' Starring Daniel Craig, Rooney Mara, Christopher Plummer, Stellan Skarsgård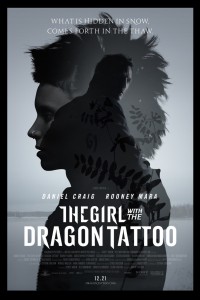 It was only a couple of years ago that we were introduced to the Swedish film adaptations of Stieg Larsson's Millennium Trilogy. The author's three books have sold over 50 million copies worldwide, and have became a phenomenon over the better part of the last decade. So it was only natural that an American film adaptation would follow while the series is still hot. Luckily for fans of the original film and novel, director David Fincher got his adaption of The Girl With the Dragon Tattoo right.
Mikael Blomkvist (Daniel Craig) is a well-known journalist at Millennium Magazine, who has recently been sued for libel against billionaire businessman Hans-Erik Wennerström. With his life savings eradicated, Mikael decides to take on a side project and get away from the stresses at home. He is hired by a retired businessman named Henrik Vanger (Christopher Plummer) to solve the mysterious disappearance of his great-niece Harriet some 40 years ago. While staying at the family's private island home in Hedestad, Mikael investigates the history of the entire family – all who are suspect. He is later joined by troubled 25-year-old ward of the state, and all around badass, Lisbeth Salander (Rooney Mara) to help solve the case. Henrik offers Mikael not only double to quadruple his normal salary while working the case, but also information that could ruin Wennerström and restore faith in him as a journalist. What ensues is a thrilling mystery to uncover what Henrik believes to be the murder of Harriet by someone in his own family.
Remakes are tough to do; especially when the original film is as good as the Swedish version of The Girl With the Dragon Tattoo was. Although this film is being touted as Fincher's own take on the original novel, it is clearly a remake of director Niels Arden Oplev's 2009 film. With that being said – it is really, really good. Although the original movie was made so well, the same can be said of the 2011 version. The cast that was chosen could not have been any better. I can honestly say that when I saw the Swedish film a couple years ago, I pegged Daniel Craig to play Mikael and Stellan Skarsgård as Martin Vangar (Harriet's brother) if there was an American version. And sure enough, here they are. Also, the choice of Christopher Plummer as Henrik is fantastic. Plummer gives a brilliantly convincing performance as the aging businessman who wants nothing more than to find out what happened to Harriet.
Although Fincher's adaptation is pretty darn similar to the original film, there are enough differences that make this film stand out. One is the score composed by Trent Reznor and Atticus Ross, who were also responsible for the music in The Social Network. The two won an Academy Award last year for their work, and are certainly on-track to do it again with this project.
Another fantastic part of this new film is the performance given by Rooney Mara as the title character, "The Girl With The Dragon Tattoo" Lisbeth Salander. I didn't think that the portrayal by Noomi Rapace could be touched, but Mara does a fantastic job. Her character is tough and mysterious, while still appearing vulnerable when necessary. Lisbeth is an all-around bad-ass and enough can't be said about her acting. Mara completely transformed her look, doing a complete 180 from Erica in The Social Network. If this movie was going to fail where the original succeeded, I would have said it would have been with this character. But that scenario is far from becoming true, as Rooney Mara is sure to break out as Noomi is now.
The film visually looks fantastic, and the tone is just as dark and chilling as the original. Fincher is great at achieving this look, as he did masterfully with Fight Club and The Social Network. If I could choose any director to take on this project with the hopes of achieving success, my money would be on Fincher. Seeing what he did with this first of three films gives me great hopes for the rest of the trilogy.
In the end, I am of the strong opinion that this "remake" was a good thing for the franchise. Although the movie is very similar to the original, there are plenty of good things to say about both of them. And although Oplev's 2009 version gained great financial success worldwide, it only brought in slightly over $10 million dollars in the US. I guarantee that Fincher's version will do that within a day of opening in the US. What this film will do is raise awareness of the series, and spur sales of the novels and Swedish films. As good as the original film was, there are a huge amount of American's who won't watch a movie with subtitles. So if there had to be an American version of this story, at least it is full of action that is sure to delight fans and newcomers alike.
The Girl With The Dragon Tattoo is an A