Movie Review: 'Lincoln' Starring Daniel Day-Lewis, Tommy Lee Jones, David Strathairn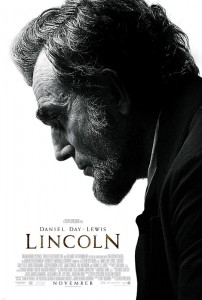 Lincoln is a President that everyone knows, without really knowing the man himself. We see him on the five dollar bill, but seldom do we ask the question, "why is he on there?" Director Steven Spielberg and "Team of Rivals" author Doris Kearns Goodwin feel that one of the reasons is because of the passing on the 13th Amendment – abolishing slavery after the American Civil War. Spielberg tells the story with an incredibly interesting and authentic biopic, without making you feel like you just sat through a high school history lesson.
Abraham Lincoln (Daniel Day-Lewis) has just been re-elected to a second term as President of the United States. America is still split in two during the Civil War, and after passing the Emancipation Proclamation Lincoln wants to make sure that slavery is gone for good. But in order to do that, he needs to get the 13th Amendment passed before the end of the war – which could be any day when commissioners from the confederacy arrive to deliver their surrender. Democrats in congress like William Sewardhate (David Strathairn) and Fernando Wood (Lee Pace) hate the amendment, and do everything in their power to convince their colleagues to vote it down. But Lincoln has an incredible way with the people, along with help from three men sent to convince congress of future job opportunities (James Spader, John Hawkes and Tim Blake Nelson) and congressman Thaddeus Stevens (Tommy Lee Jones).
Everything that we know about Lincoln is from the black and white photos we see, and the history books we read. But in my mind, Daniel Day-Lewis does nothing short of becoming Abraham Lincoln. His performance is so eerily believable, as the actor embodies everything we know about the 15th president. Everything from the hair and beard, to the stares of concern that could only be studied in photographs are perfectly replicated by the Irish actor. And the way he carries himself and manipulates his voice into a high pitched, yet powerful speaking tool, is nothing short of incredible. Day-Lewis gives a performance so incredible that there is no doubt he will be stiff competition for anyone who stands to win the Oscar for best actor this year.
If it isn't the acting, the screenplay by Tony Kushner – based on Doris Kearns Goodwin's novel – is what makes the film. At 149 min of mostly talking, it is easy to believe that the film could feel a bit long at times. But the incredible script is not only captivating, but is downright fascinating as we learn about the politicians of the time. Particularly wonderful to learn about is Abraham Lincoln – who not only had a lot on his plate while trying to reunite his country – but also as a family man. From long-winded debates in congress to emotional talks with his wife Mary and sons Robert (Joseph Gordon-Levitt) and Tad (Gulliver McGrath), the writing is impeccable.
Steven Spielberg, along with Daniel Day-Lewis and an incredible cast, have come together in an endearing biopic that shows us just how crucial Lincoln was to the United States when they needed him most. He was a president that many loved, who in his short time as president changed the lives of millions and millions of people. With a number of incredible performances, and a touching story that makes history entertaining to learn about, Lincoln is easily one of the best films of 2012.
Lincoln is an A.