Movie Review: 'Killer Joe' Starring Matthew McConaughey, Emile Hirsch, Thomas Hayden Church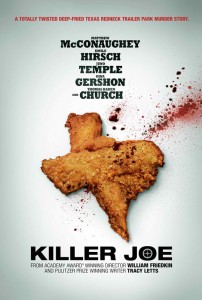 Killer Joe is a very dark and violent comedy about a young drug dealer (Emile Hirsch) who can't pay off his supplier after losing his stash so he gets his dad (Thomas Hayden Church), sister (Juno Temple), and step-mom (Gina Gershon) involved in a plan to hire a professional killer (Matthew McConaughey) to take care of his evil mother and collect on the insurance policy. The film is set in a small Texas town that hasn't been updated in over 30 years and is peppered with trailer parks, honky-tonk bars, and seedy strip clubs filled with c-section and breast implant scars. Any sense of joy left this town long ago, and even further proof of that is the skeleton of a roller coaster from an abandoned theme park that looms high over the skyline.
Tracy Letts, the winner of the 2008 Pulitzer Prize in drama for his play, August: Osage County, and son of author Billie Letts, wrote Killer Joe as his first play over 20 years ago. Since then it has been performed thousands of times by theatre companies all across the world which in turn has given Letts the opportunity to perfect it. Having a character kill someone for the insurance money is almost a cliché at this point but Letts' dialogue and character development is so engrossing that it is impossible to be bored during this movie.
Every character except for Joe is the epitome of white trailer park trash, and everyone is deplorable except for Dottie, the innocent virgin played by 24 going on 15 year old actress, Juno Temple, who seems to have memorized every passage in the jailbait handbook. She is the one who is named as the beneficiary in the insurance policy and the one Joe keeps as a retainer until this bumbling family can figure out a way to pay him for his services.
The actor who deserves the most credit for bringing the funny is Thomas Hayden Church. His role as a clueless mechanic who wants nothing more than to drink beer in his pajamas while watching monster trucks on TV definitely got the most belly laughs out of me. It's like his life has been miserable for so long that it is easier to stay detached and let someone else figure out what's going on and then have them explain it to him. The whole juxtaposition of a cold and calculating hitman having to deal with these rednecks is so absurd that anyone who tries to take this movie seriously and lets themselves get offended is just silly. These characters may be scum but they are being brought to life by charismatic Hollywood stars with perfect teeth, so it is hard to stay mad at them.
Killer Joe is directed by William Friedkin, the Academy Award winning director of The French Connection and The Exorcist. Friedkin and Letts previously collaborated to adapt Letts' play, Bug, into a film in 2006. In 2010 Letts called up Friedkin to say that he was working on a script for his play, Killer Joe, and Friedkin immediately agreed to make it and started looking for the perfect cast. It seems as if Friedkin treated Letts' words like scripture and understood that the most important role as director was choosing the best cast to elevate the dialogue and then get out of the way in order to let the actors act. In keeping with its Steppenwolf Theatre roots, every scene in Killer Joe is made up of long takes filled with heavy dialogue with very few cuts and take place in confined locations. It is to the testament of the script and the actors that a 20 minute scene with all the characters around a kitchen table inside a trailer home will no doubt become one of the most indelible moments in cinematic history.
Watching this movie in a theater definitely made the tension on screen palpable. Depending on the morality of the person, most audience members should be nervously laughing out loud while at the same time afraid of what will happen next. Right when things seem to become a bit too uncomfortable, a character will say something so dimwitted as if to remind the audience how ridiculous everything is. After being given an NC-17 rating, the producers decided to use it to their marketing advantage, and to be honest it was the main thing that attracted me to this movie. Killer Joe earns its rating time and time again in the best possible ways.