Movie Review: 'Jersey Boys' Directed by Clint Eastwood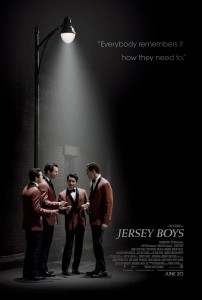 It was only a matter of time before the 4-time Tony Award-winning musical Jersey Boys became a motion picture. The Broadway show, which also received the 2009 Laurence Olivier Award for Best New Musical, still runs after 3,564 performances and tours around the world. And now Clint Eastwood has directed a film which is strikingly close to the source material, and has tremendous talent in front of the camera.
John Lloyd Young opened the Broadway production as Frankie Valli in 2005, and returns as the star of the film. It also stars Erich Bergen as Bob Gaudio, Michael Lomenda as Nick Massi, and Vincent Piazza as Tommy DeVito. The story starts with a 16-year-old Frankie getting roped into petty crimes by Tommy, and eventually joining Tommy's band "The Lovers." As times change, trios are out and the people want to see 4 members in the band. Frankie, Tommy and Nick make an agreement with singer/songwriter Bob Gaudio to become the fourth member of the band, which would eventually become The Four Seasons. The film shows the entire journey of the group and it's member, from creation until present day – the good, and the bad.
Having seen the national tour of Jersey Boys, I knew that the music would be fantastic. The film follows pretty much every beat from the show, recreating many of the scenes and lines almost identically. At 134 min, it flushes out the characters a bit more and provides more detail into the events of the story. Although interesting, at times the film feels a bit slow – mostly in-between the well-produced musical numbers. The actors do a terrific job of replicating the original roles, coming off very naturally as the characters on-screen.
There is no question that Clint Eastwood is a talented director. The film is one that was in limbo for a while, when Eastwood decided to take it on as a passion project and produce it as well. All in all, Jersey Boys is very well put together. It looks great, sounds great, and tells a very compelling story. The only real downside is the energy that it lacks at times when compared to the stage show. Yet even when a bit slow at times, the music and the performances make up for any lulls.
Jersey Boys is a B –