Movie Review: 'Jeff, Who Lives at Home' Starring Jason Segel, Ed Helms, Susan Sarandon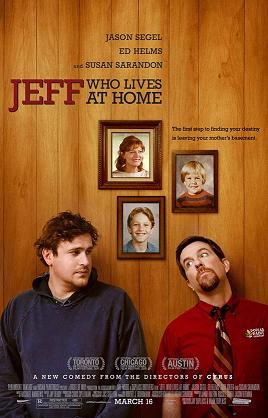 There's a point in the movie Van Wilder at which the eponymous character is at a formal gathering and is explaining his reasoning behind staying in school for seven years, claiming he's still searching for that "dare to be great situation." At that point, the snide antagonist responds, "Maybe you should start looking for that dare-to-be-employed situation." It's meant to be taken as an insult to the main character, but in the minds of many (or maybe just mine), it was a rather valid question. Van Wilder dismisses the idea, though, because he's just that awesome, and the situation arises later in the film and he's forced to face the challenge.
I only bring that film up because while watching Jeff, Who Lives at Home, that scene was immediately the first thing I thought of.  That and the fact that I felt incredibly out of place wearing basketball shorts, a Nike Dri-Fit shirt, and sandals while at the Plaza Frontenac. For the uninitiated, Plaza Frontenac is one of the…glitzy areas in St. Louis. Walking through the mall, the store names consist of mostly foreign words I can't pronounce. I'm not a flashy guy; give me a hoody and shorts, and I'm comfortable. There might as well have been a giant pair of judging eyes following me around in there.
Jeff (Jason Segel) is a 30-year old who still lives in the basement of his mom's house. He appears to be unemployed, as he tends to spend his days contemplating his own philosophies while smoking marijuana. His ritual is thrown off when his mom (Susan Sarandon) calls him and asks him to fix a shutter upstairs.
Before he goes, he gets a phone call from someone asking for Kevin. After he hangs up, he begins to ponder the significance. See, Jeff has a theory that everything in life is connected somehow (think the butterfly effect). With this in mind, as he sets out on his errand, he sees a man on the bus with a jersey bearing the name Kevin, so he decides to follow him.
Meanwhile, Pat (Ed Helms) is Jeff's older brother struggling to keep his marriage to Linda (Judy Greer) afloat. It's pretty clear that the passion they once shared has waned to the point that they're almost roommates more than a married couple. While at a business lunch (at Hooters), he gets a call from his mom to help Jeff finish the chore. While at work, Sharon (Jeff and Pat's mother) deals with a secret admirer who randomly messages her on AOL. She confesses the conversation to her friend Carol (Rae Dawn Chong), who wants to help her figure out who her secret admirer co-worker is. As the day progresses, Pat and Jeff find themselves in one situation after another, discovering along the way that maybe Jeff's idea wasn't so absurd.
The movie's an independent release, and from the get-go, it's pretty obvious. I've been a fan of Jason Segel ever since Forgetting Sarah Marshall, so I was pretty stoked to see it. He's perfectly typecast as Jeff, who's lazy and misguided, but ultimately a good guy. He's a sharp contrast from Pat, who's more grounded in reality but puts his own needs well ahead of anyone else's, as evidenced by his buying a Porsche without telling his wife, even amid her objections when she does find out. I'm a big fan of Judy Greer, as she's been in two of my favorite television series in recent memory (Archer and Love Monkey), and she's adequate as a lonely wife who wants to remember the love she once felt.
I couldn't help but feel a sense of deja vu, though, throughout the film. As I mentioned before, the whole idea was straight out of one scene in Van Wilder. There's a minor plot twist about 2/3 of the way through the movie, but I pretty much had it figured out in the first half of the movie. The idea of random events and characters somehow being interconnected reminded me of Crash.
The saving grace, though, is the last ten minutes of the film, during which it all comes together. It's nothing shocking or brilliant, but it comes together well enough at the end that I left the theater with a sense of satisfaction.
Also, a bit of indigestion. I'm pretty sure that hot dog I bought had been sitting there for a while.
The movie's pretty short, clocking in at under an hour and 20 minutes, so it's short enough to hold your attention for the most part. It wasn't a bad movie, but it wasn't anything I'd be in a rush to go see again any time soon.
Jeff, Who Lives at Home gets a C.