Movie Review: 'Jack Ryan: Shadow Recruit' Starring Chris Pine, Kiera Knightely, and Kevin Costner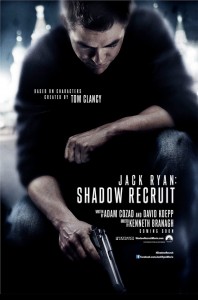 Ahh, January we meet again.  Most savvy filmgoers will know that January is a month of award season holdouts and a studio wasteland. Studios tend to release projects they have little to no faith in during the January slaughter, in hopes that they will gain traction with an audience ready to move on from the holiday season.  Usually there will be one breakout of the month, but usually along the lines of Paul Blart: Mall Cop or Kangaroo Jack. With standouts like these, you can imagine that quality is a limited source throughout January. Coming off the high of the best films of the year, critics are deemed with the task of enduring the few new films that are released throughout the month. So dim is the prospect of quality, that a by-the-numbers action flick can seem like a great lead-in to a new film series.
Many are familiar with Jack Ryan, either by reading Tom Clancy's books featuring the characters or in films like The Hunt for Red October, Patriot Games, Clear and Present Danger, and The Sum of All Fears. This film isn't a continuation of any of the previous films, rather an attempt to restart the franchise. This time actor Chris Pine steps into the role of Jack Ryan, shoes previously filled by Alec Baldwin, Harrison Ford, and Ben Affleck.  Ryan's story might not have the same exact background as his predecessors, but it is close. Ryan is still an economics student who joins the military only to be pushed out of action by a helicopter crash. Many other details are the same, while others are changed in an effort to modernize the character beyond the original Cold War beginnings.
Here is what you need to know. Jack Ryan is really smart. He's the cinematic smart, you know, the one where only certain people can see his brilliance, while others overlook it. His job is to root out terrorism funding through Wall Street, and it's a job that apparently not many other people can handle. He's got a smoking hot girlfriend, who despite being a doctor is kind of an idiot throughout much of the film.  He's an analyst trusted in the field to do numerous things, despite the fact that if he fails the US could collapse. Oh, and Kevin Costner is his weird spook father figure.
So, we have all the bases covered on what kind of guy Jack Ryan is right? Well, the plot is pretty simple as well. You have a crazy over the top Russian bad guy who totally hates the United States. He figures he's going to take down the United States through the stock market, and figures there will be no repercussions on a global scale for his own country. He's a cinematic mixer of 3 parts Cold War bad guy, 2 parts 1 perecener, and a splash of god complex. Not very believable, but when played by director Kenneth Branagh he's at least fun.
It might sound like Jack Ryan: Shadow Recruit is a terrible movie. It by all means isn't, it's just pretty much the same thing you've seen before. It can be exhilarating at times, perplexing at other times, but it's still fun. Chris Pine continues to show a lot of promise as a lead in an action film, and he is bolstered by a strong cast in an otherwise weak film. Branagh seems to make the most out of the material, but ultimately the film feels a bit flat. It's pretty enjoyable while you are in it, but it quickly falls apart on deeper inspection.
If you like a nice mindless action flick that appears smarter than it actually is, Jack Ryan: Shadow Recruit is right up your alley. The film would surely be passed up in a crowded summer market. However, if you've seen all the awards season films (or they don't interest you), and you are aching for a trip to the cinema, this film will keep your attention.
Grade: C-