Film Review: 'Hostiles' Starring: Christian Bale, Wes Studi, Rosamund Pike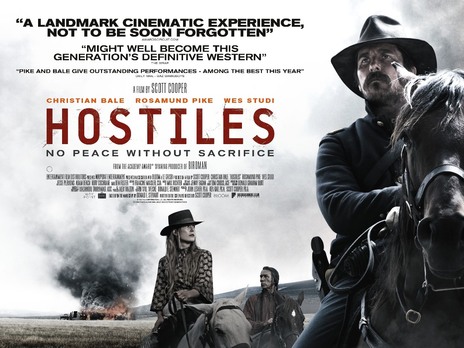 Hostiles is one of those films that is sometimes hard to watch, but you won't be able to turn away. Riveting performances from great actors overcome the bleak, hopelessness of the film.
For as tough as the film is to watch, Christian Bale and Rosamund Pike's performances are nothing short of gripping in the new western from writer/director Scott Cooper. Cooper is responsible for such films as Crazy Heart and Out of the Furnace, which also starred Bale.
Hostiles is set in 1890s New Mexico. Bale plays Capt. Joseph Blocker, a hardened, yet scarred U.S. Army captain who is in charge of transporting a Cheyenne chief to Montana.
Blocker has a small group of soldiers assisting him, including characters played by Jesse Plemons and Timothee' Chalamet. Along the journey, the group encounters a widow, played by Rosamund Pike.
Pike's husband and children meet a particularly brutal demise in the opening scenes of the film. The bloody and shocking opening to the film is hard to watch and is a preview of what is in store for the rest of the 135-minute film.
If you are expecting a fast-paced action film, think again, Hostiles is slow, intentionally slow. Cooper's vision is quite effective, as the director wants the viewers to feel the sense of loneliness and despair that the soldiers feel. At times the sense of emptiness the film alludes is almost too much to bare, but the performances keep you glued to the screen. Cinematographer Masanobu Takayanagi uses brilliant photography to build the tension and hopelessness of the western terrain.
Clocked at 135-minutes, Hostiles feels like it could have been much longer. Cooper drops the ball on shining the light on Blocker's inner demons. At times it seems like Blocker just overcomes his inner struggles without any transition. But, given the heaviness of the film, and the razor sharp performances from Bale and Pike, this can be forgiven.
Hostiles gets a B+