The Green Hornet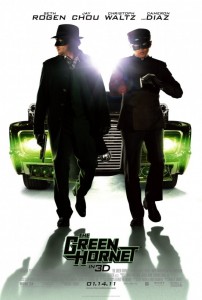 With great power, comes great irresponsibility…
Billionaire Playboy [reader] Britt Reid (Seth Rogen) is a fun-loving party animal with no worries, living off of his father's wealth. When James Reid, head of Los Angeles' biggest newspaper, dies unexpectedly – Britt is left to take his place. But with little experience, and frankly little ambition, he is unsure of what to do. When Britt meets Kato (Jay Chou), his father's mechanic and technologically savvy handyman, he realizes that there is something more meaningful than journalism that he can do with his resources. Hence the Green Hornet is born.
Seth Rogen is hard not to like, and does well in a unique role for the actor. Rogen dropped a ton of LBs. for the role of the masked superhero, and it paid off. He seemed comfortable, as well as believable, as Britt Reid – who is far different from characters Rogen has played in the past. The movie revolves around Britt growing up faster than he wants to, as he is forced to deal with his father's death and the empire he leaves behind. Rogen is joined on-screen by the charismatic Jay Chou, who does a great job as his superhero sidekick. Kato is more of a babysitter to Britt than anything, and it is fun to watch the two of them try and tackle the criminal underworld.
While the two masked crime-fighters are trying to figure out their next move, head crime boss of LA Chudnofsky (Christoph Waltz) is starting to take notice of their antics. What seems to be fun and courageous to Britt and Kato starts really interfering with Chudnofsky's business. And when drug lords and criminals start coming to him with business cards dawning the Green Hornet's logo and e-mail address – he decides it's time to do something about the fly in his ointment.
I can't think of a better actor than Waltz to play the role of Chudnofsky. He adds a serious performance to a somewhat comedic role, and pulls it off marvelously. I know that I am not alone in chomping at the bit for the actor to make his first appearance since the role that landed him the Oscar for Best Supporting Actor in "Inglorious Basterds." Waltz takes a character that would otherwise seem ridiculous, and makes it work. I had a lot of fun during most all of his screen time.
There is a lot of action that keeps things moving for most of the film. There were some parts that seemed to drag on a bit, like some of the bickering and fighting between Britt and Kato. But overall, the movie keeps a good pace between the action and comedy.
What was most surprising was the use of 3D, which I thought would be completely useless before seeing the movie. Honestly, I don't see any reason why it needed the 3D post conversion – aside from the fact that it will boost ticket sales. But with that being said, it was surprisingly unobtrusive and actually gave some shots interesting depth. If a movie is going to use 3D at all, and isn't animated, I say at least do it right and film in 3D. Luckily for "The Green Hornet" it doesn't take anything away.
Overall the movie is a lot of fun, and keeps a good balance between action and humor. Seth Rogen usually plays a charismatic and likable guy on-screen, and "The Green Hornet" is no exception. With the addition of Chou and Waltz, the movie keeps moving and seldom ceases to please. If deciding to see it in 3D or not, I don't think you could go wrong either way. If you are up for some fun, mindless action – it should be a good time at the theater.
"The Green Hornet" is a B-