Movie Review: Emilio Estevez's 'The Way' Starring Martin Sheen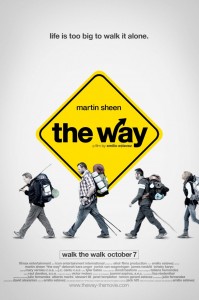 The Way is one of those films that I really want to like, but just didn't blow me away.  The story is interesting, and the acting is good, but it felt like there was something missing from the puzzle.  It is the rather planar journey of a man who is trying to find himself, but just doesn't seem to suck you in.
Tom (Martin Sheen) is an ophthalmologist who get's a call from France about the sudden death of his son Daniel (Emilio Estevez).  He travels to St. Jean Pied de Port to collect the remains, where he learns of Daniel's journey to walk the the 800km Camino de Santiago.  Tom decides that instead of heading back to America, he will make his own pilgrimage along with the remains of his son – spreading his ashes throughout the trip.  Although he thinks that the trip is for Daniel, he soon realizes that everyone who walks the Camino de Santiago does it for themselves.
The journey that Martin Sheen's character takes is an interesting one, there is no doubt about that.  If you enjoy traveling, there is a ton of Spain to see in the film. The main problem is the pacing, and the lack of conflict that the character goes through.  Sure, he has lost his son – there is no doubt that it is a terrible loss.  But we don't see enough of the interactions between the two of them to really create a bond with the characters, and so we really never get into Tom's head.  There are a couple of flashbacks, but it would have been much better if there were specific points along the journey that connected with past events of their relationship, that show how the journey changes Tom.  Simply put, beside for a really long walk, there just isn't that much going on.
Martin Sheen gives a decent performance, but it certainly isn't his best. There are times that it feels like you are watching a Hallmark film, and Sheen is much better than that.  Sheen does, however, do a good job of conveying the anger his character is going through.
Along the way, Tom meets a few friends that add a lighter tone to the film.  Joost (Yorick van Wageningen) is a Dutchman who is travelling the path to lose weight for his doctor and his wife's sake.  Jack (James Nesbitt) is an Irish writer with writer's block, who tags along to find material for his book.  And Sarah (Deborah Kara Unger) is a single woman who is trying to quit smoking by the time she finishes her journey.  All of these actors add levity to the film, and do a good job playing  Tom's companions.
If you enjoy travel, or the thought of taking a journey to find yourself, The Way is probably a film you will enjoy.  If you go into it knowing that you are going to be doing a lot of sight seeing, it's probably going to make it easier.  I just wish that Estevez would have written in a few more exciting plot points, or at least had Sheen's character experience a little more fun.
The Way is a C+