Movie Review: 'Dallas Buyers Club' Starring Matthew McConaughey, Jennifer Garner, Jared Leto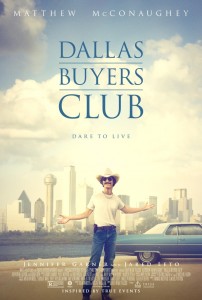 Dallas Buyers Club uses a pair of stellar, Academy Award worthy performances to overcome an at times mundane screenplay. Matthew McConaughey stars as Ron Woodroof, a badass bull riding cowboy who like most in 1985, didn't realize the AIDS epidemic was going to change the world. McConaughey does a fine job showcasing Woodroof's wild side of boozing, having sex with multiple women, and coke snorting that led to his near self-destruction. I forgot to mention that he is also homophobic, which makes his business-friendship with fellow HIV-positive transsexual Rayon, played by Jared Leto, all the more surprising. Leto picks a fine role to make his return to the big screen. I honestly felt that Leto's performance was even better than MacConaughey's.
While much has been said about both actors' extreme weight loss, which was to say the least, extreme, it was both performances' that will undoubtedly earn both Oscar nominations. I am convinced that Leto will win for his supporting role; he's that good in the film. I sat completely in awe of Leto's character during the entire film. MacConaughey's character is so rotten at times during the beginning of the film, it was hard to like him, or even feel sorry for him. But, that is where the movie is at its best. "DBC" is not trying to make you feel sorry for the characters that have been given a death sentence of an AIDS diagnosis; it is trying to share their story of survival, and the lengths that they went to get these unproven drugs, that sometimes did more damage than good to their bodies.
The film is by no means perfect, as some scenes feel misplaced. One scene in particular shows Woodroof having sex with a fellow HIV-positive woman at his office. The scene just feels out of sync. Another scene that felt out of sorts involved Woodroof being cast out of his local watering hole. Most who see this film will know or realize the stigma that went with the AIDS virus in the 80s. Most felt that it was a homosexual disease. Woodroof said the same thing himself, when diagnosed early in the movie. I just didn't think the scene served any more purpose in the film.
As I watched DBC, visions of Philadelphia ran through my head. I started to compare the two, and then I stopped. It's really hard to do that. They are both really different movies. While Tom Hanks' performance was Oscar winning, it's still not clear if McConaughey's will be. I'm sure he will get his first nomination, but I am not predicting a win. Leto, on the other hand, was solid gold in the film. He gave the performance of his career. I also thought Steve Zahn did a nice job playing Woodroof's police buddy. Jennifer Garner came off strong as well, playing one of Woodroof's doctors.
Ultimately, if you see Dallas Buyers Club it should be for the performances in the film. There will no doubt be a lot of award talk surrounding McConaughey's and Leto's performances, as their rightfully should be. Other than that, the film itself is kind of stuck in neutral. I got the feeling that director Jean-Marc Vallée isn't sure if he wanted the film to tug at your emotions or be a rallying cry for HIV patients of the 80s. The performances make the film a must-see for movie fans. And, while the performances will blow you away, don't expect to see a film that will knock your socks off in the end.
Dallas Buyers Club gets a B.