Movie Review: 'Crimson Peak' Starring Tom Hiddleston, Mia Wasikowska, Jessica Chastain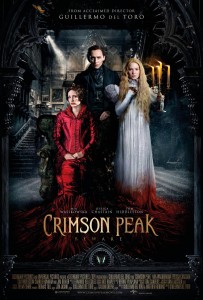 Crimson Peak, the latest offering from Guillermo del Toro, is a beautifully made film. It's dark, it's gothic and it's bloody. However, the one big problem the film has is it's not scary.
For a film that is being billed as a horror movie, Crimson Peak comes off more as a tragic love story – which isn't necessarily a bad thing for movie fans.
Del Toro is at his best in telling the story of a young woman who is swept off her feet by a seductive stranger. Edith Cushing (Mia Wasikowska) is romanced by Thomas Sharpe (Tom Hiddleston). Sharpe's sister, Lucille, played wonderfully by Jessica Chastain, seems to lurk near wherever the pair are around each other.
While all the performances are stellar, the stars of the film are the sets and costume design.
The house, Allerdale Hall, is filled with all kind of things that go bump in the night, but scares are at a minimum. While a few gruesome deaths happen on screen, there aren't many actual scares in the film, yet I felt like the film had a creepy presence about it. It might have been the blood-red snow, for which there was no logical explanation given in the film.
While del Toro has always been known for his beautiful films, this is right up there among his best, as the dresses that Lucille wears in the film seem to almost come alive. While the ghosts play a prominent role in the film, I felt they were seen a bit too much. For all the positive things I've said about the set and costumes, the ghosts come off a bit lame. I would rather them have not even been on camera, as tricks the mind can play can be even scarier than seeing the real thing.
All in all, "Crimson Peak" is an enjoyable film. It's beautifully made and skillfully acted.
Crimson Peak gets a B+.