Movie Review: 'Creed' Starring Michael B. Jordan, Sylvester Stallone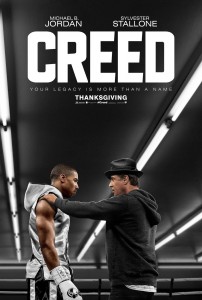 It's been a long time since Sylvester Stallone has delivered a knockout performance, but in the new installment to the Rocky franchise, Creed, Stallone shows he deserves to be in the same ring with many of this years top supporting actor candidates.
While Stallone is great, make no mistake, Creed is all about Michael B. Jordan's character, Adonis Creed.
From the opening scene, where a young Adonis is seen fighting in a juvenile detention center to the closing scene of the film, Jordan shows he has enough punch to carry the Rocky franchise in a whole new direction.
Ryan Coogler, director of the haunting Fruitvale Station, in which movie girls were introduced to Jordan, as he gave another rousing performance, is at the top of his game. Coogler's film doesn't seem like a 2 hour-plus film, as it's action-packed and an emotional rollercoaster.
After learning he is the son of the former champion, Apollo Creed, Adonis, or Donny as refers to himself through much of the movie, moves to Philadelphia to ask Rocky to train him.
Adonis finds Rocky still operating his restaurant, Adriane's and all alone. Rocky's friend, Pauly has since passed and Balboa's son has moved away to Vancouver.
After being hesitant to train his best friend's son, Rocky ultimately agrees to take Creed in.
The two have many funny and heartfelt moments in the movie.
Creed not only needs Balboa to train him, so that he doesn't embarrass his father's legacy, but Balboa later needs Creed to push him to fight the toughest opponent he has ever faced in any of the films.
Coogler not only hits every punch on the emotional wheel, but the fight scenes are brilliantly filmed. A couple of the fight scenes seemed to pay homage to Raging Bull, arguably the greatest boxing movie ever made.
Jordan seemed to immerse himself into the role of Adonis Creed, looking very similar to the Apollo character that Rocky fans grew to love in the first four films.
While I was a fan of the last Rocky film, Rocky Balboa, I admit it seemed unnecessary at times. Creed never felt that way, as it breathes new life into the franchise and will definitely create a new generation of fans.
Creed gets an A.