Movie Review: 'Central Intelligence' Starring Kevin Hart, Dwayne Johnson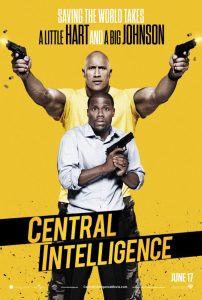 I must admit that my expectations were low for the new buddy-cop movie Central Intelligence.
Despite starring Dwayne Johnson and Kevin Hart, the trailer just seemed kind of dull.
As probably one of the biggest fans of Dwayne Johnson on the planet, and a pretty huge Kevin Hart fan, I'm happy to report that Central Intelligence not only exceeded my expectations, but it blew them out of the water.
Hart and Johnson are comedic gold in the film, as the charisma that the pair share shines on the big screen.
Hart, who has made a name for himself, playing pretty much the same character in each film, is, yet again up to his old tricks of screaming, yelling and acting scared to death like in just about every film he is in.
Johnson, on the other hand, has become an action superstar. While he sees his fair share of action in the film, he also shows that he has some comedic chops. Both actors are solid in their respective roles.
Now remember, this is a summer movie, so there is really minimal plot in the film.
The film starts back in 1996, as the pair are seniors in high school. Hart is the king of the school, expected to do great things, while Johnson is overweight and bullied.
Fastforward 20 years later and Hart is a down on his luck accountant, married to his high school sweetheart and longing for his glory days of the past.
Johnson has become a hulking, musclebound, killing machine who is being chased by the CIA.
That's really all you need to know about the plot, as it is paper thin.
Both actors more than hold their own in the film, creating many laugh-out-loud moments. It's easy to see that the actors really seemed to enjoy making the film together. Last summer, both would frequently post videos on social media on set of the film.
While Central Intelligence will not win any acting awards, it's a fun summer movie.
Johnson and Hart show why they are two of the biggest names in Hollywood right now. While Hart's films have grown a bit stale, there is something fresh about his role in Central Intelligence.
With Johnson stealing a number of the scenes, it's easy to see why every film he is in sets the box office on fire.
If you're looking for a fun, enjoyable movie going experience, Central Intelligence delivers.
Central Intelligence gets a B+.