Movie Review: '50/50′ Starring Joseph Gordon-Levitt, Seth Rogen, Anna Kendrick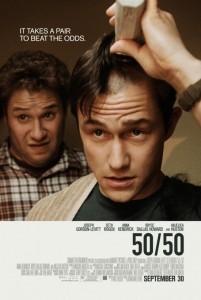 What would you do if you were diagnosed with cancer? Would you simply give up, or would you live your life to the fullest? 50/50 is an incredibly truthful film that takes us on a roller-coaster of emotions as we see just how real of a journey this is for so many people.
Adam (Joseph Gordon-Levitt) is a young, 20-something who doesn't smoke, doesn't drink – and works safely from his desk at a radio station. And he has just been diagnosed with cancer. The news comes to him as quite a shock, as it would for anyone, but he deals with it quite calmly. His friend Kyle (Seth Rogen) is optimistic that he will be fine, and hardly acts any different. On the other hand, his mom (Anjelica Huston) is ready to move in with him and take care of him. His relationship with his girlfriend Rachael (Bryce Dallas Howard) starts to get rocky at the worst time, and his only form of professional therapy comes from Katie (Anna Kendrick) who is using him as part of her dissertation. With the help of his friends and family, Adam takes his 50/50 chances and does the best he can with the cards he is dealt.
Joseph Gordon-Levitt does a phenomenal job in the lead. He has really developed as an actor over the past few years, and is incredibly versatile in the roles that he can pull off. He reminds me of a blossoming Leonardo DiCaprio, as he has quickly risen as a lead and can carry pretty much any genre. In this film he really allows you to feel what his character is going through, and the audience experiences his ups and downs as if they really know what it's like to be in his shoes. He does a good job keeping things lighthearted while dealing with the serious subject matter, without seeming uncomfortable. His chemistry on-screen with Seth Rogen is great, and the two play very well off of each other. The film is co-produced by Rogen and his writing partner Evan Goldberg, and written by his long-time friend Will Reiser – whose real life battle with cancer is the basis for the movie. This is more of a serious role for Rogen than normal, but he does an excellent job recreating his experiences with Reiser on-screen.
Any time you are talking about a serious subject matter like cancer, it can be a little tricky. Just the thought of seeing a movie about it can be a turn off – but don't let it. 50/50 is a great movie that shows just how real of a disease it is, but in the same way it shows how powerful friends and not giving up hope can be. It's an inspiring look into the life of someone who would never think they would face anything so hard, just as many never would, and is a surprising blend of comedy and drama that feels just right.
50/50 is an A