MOONRISE KINGDOM Opens June 8 in St. Louis! Enter to Win Passes to the Advance Screening!
Enter to win a pair of passes!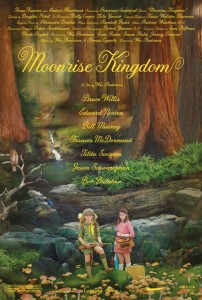 Set on an island off the coast of New England in the summer of 1965, MOONRISE KINGDOM tells the story of two twelve-year-olds who fall in love, make a secret pact, and run away together into the wilderness. As various authorities try to hunt them down, a violent storm is brewing off-shore — and the peaceful island community is turned upside down in more ways than anyone can handle. Bruce Willis plays the local sheriff. Edward Norton is a Khaki Scout troop leader. Bill Murray and Frances McDormand portray the young girl's parents. The cast also includes Tilda Swinton, Jason Schwartzman, and Jared Gilman and Kara Hayward as the boy and girl.
Cast: Bruce Willis, Edward Norton, Bill Murray, Frances McDormand, Tilda Swinton, Jason Schwartzman, Jared Gilman, Kara Hayward
Director: Wes Anderson
In order to enter the contest, "like" of ReviewSTL on Facebook . Then tell us why you want to see the movie below in the comments on this page! NO PURCHASE NECESSARY. While supplies last. Passes are available on a first-come, first-served basis.
Winners will be chosen at random from all entries. Supplies are limited. Limit one (1) pass per person, passes admit (2) two. Sponsor's employees and their dependants are ineligible. Screening is overbooked to ensure capacity. Please refer to passes for any other possible restrictions. No purchase necessary.
The screening is Wednesday, June 6 at the Tivoli (7pm).
Good luck! We hope to see you at the movies!
MOONRISE KINGDOM OPENS IN ST. LOUIS
ON JUNE 8