PEACE, LOVE AND MISUNDERSTANDING Opens June 8 in St. Louis! Enter to Win Passes to the Advance Screening!
Enter to win a pair of passes!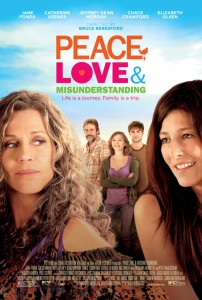 For uptight Manhattan lawyer Diane, crazy means driving her teenage son Jake and adult daughter Zoe to visit their grandmother Grace. The crazy part is that the kids have never met Grace. In fact, Diane hasn't spoken to her mother in twenty years. Grace is the epitome of the term "hippie": she stages protests and hootenannies in the town square, smokes (and sells) a lot of dope, and howls at the moon once a month with her goddess-worshipping girlfriends. But what's meant to be a weekend getaway turns into a summer adventure of romance, music, family secrets, and self-discovery.
Cast: Jane Fonda, Catherine Keener, Chace Crawford, Jeffrey Dean Morgan, Elizabeth Olsen, Nat Wolff
Director: Bruce Beresford
In order to enter the contest, "like" of ReviewSTL on Facebook . Then tell us why you want to see the movie below in the comments on this page! NO PURCHASE NECESSARY. While supplies last. Passes are available on a first-come, first-served basis.
Winners will be chosen at random from all entries. Supplies are limited. Limit one (1) pass per person, passes admit (2) two. Sponsor's employees and their dependants are ineligible. Screening is overbooked to ensure capacity. Please refer to passes for any other possible restrictions. No purchase necessary.
The screening is on Wednesday, June 6 at Plaza Frontenac (7pm).
Good luck! We hope to see you at the movies!
PEACE, LOVE AND MISUNDERSTANDING OPENS NATIONWIDE JUNE 8