Moon's Duncan Jones Sets Up Source Code w/Gyllenhall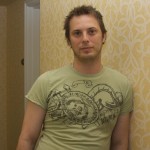 THR is reporting Jack Gyllenhaal will star in the sci-fi thriller which revolves around the premise of a soldier who awakens in the body of a train commuter and must solve the mystery of a train explosion.
Those details are pretty thin, but Moon was one of the best directorial debuts in recent memory and the film is the second best film of the year, 2009, so far.  Hopefully this one hits sooner rather than later as we need more Duncan Jones as soon as possible and Gyllenhaal could have a breakout year with Prince of Persia putting him into the minds of the main stream.  If this helps Jones get more recognition as well that will be great as well.
Also, make sure to get Sam Rockwell involved Duncan!