Monsters Inc. 2 Official Announced for Winter 2012, Brave in June 2012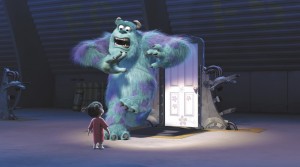 Box Office Mojo has an article up on the rumored title which is the first official announcement from Disney/Pixar on the title.  No other details are available but I wonder if it will follow Toy Story 3's path and take place 11 years after its previous effort since that is how long it will have been since the original film was released.
Also it is kind of disheartening that yet another sequel will be coming out from the Pixar camp and not an original film.  Starting with Toy Story 3 this year we will see Cars 2, The Brave, then Monsters Inc. 2.  That is 3 out of the next 4 Pixar films that will be sequels and one can't help but be sad we won't be getting more original efforts.  In fact, the only sequel that I really need to have from Pixar is a follow up to The Incredibles.  But of course I only want that to happen when Brad Bird is available to do so.
The article also discusses the renaming and release date shuffle of Brave, formerly titled The Bear and the Bow, from Christmas of next year too June 2012.  So we are still two plus years from an original Pixar effort.  This development of two Pixar titles in 2012 does raise one very positive assumption, with the opening of Pixar Canada are we going to start getting two Pixar film a year starting in 2012?  If the quality stays the same I sure as hell hope so!
Anyways, Monsters Inc. fans now have official confirmation of its sequel and one hopes that this will get the sequel bug out of their system at Pixar; even if they are great and unless Brad Bird's schedule opens up, as I want to see original stories and characters from the best studio working today.