Will Miley Cyrus Face Jail Time For Bong Smoking Video?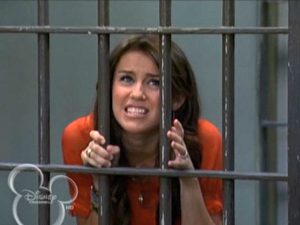 The answer is no.
The substance that Miley Cyrus was allegedly smoking was Salvia – not marijuana. In the state of California, where Miley was hitting the bong, the herb is not illegal.
Just days after her 18th birthday, video surfaced of Miley Cyrus taking hits out of a bong. Although first speculation was that the tweenie-bopper was smoking marijuana, Miley's camp is softening the blow by saying that it is Salvia.
Miley Cyrus Trivia Fact!: Salvia is an herb that when smoked, has similar psychedelic qualities to smoking marijuana. Although many states have banned the herb, it is still legal in California.
After the video was released by TMZ, Miley's father Billy Ray Cyrus tweeted,
"Sorry guys. I had no idea. Just saw this stuff for the first time myself. I'm so sad. There is much beyond my control right now."
Billy Ray is of course referring to the divorce that he is currently going through with Miley's mother – Tish Cyrus.
Watch video of Miley Cyrus smoking a bong below:

What do you think? Was Miley smoking salvia, or something more? Leave a comment below!