Michael Bay's "Transformers 3" Gets a Title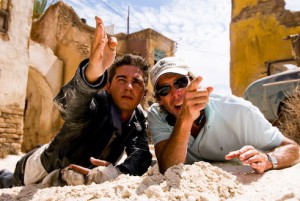 You obviously didn't think the working title of Transformers 3 was going to be the official title, did you? Well, if so I'm here to shatter your little bubble. The official title is:
Transformers: The Dark Of The Moon
Ooh, yeah, that gets you excited doesn't it? Yeah, me neither really. It just brings back odd memories of when I played Dark Side of the Moon in concurrence with The Wizard of Oz. Although it makes a bit more sense when you look at the title with the film's cold opening:
"There's a disturbance on the Moon.  A robot shaped disturbance.  Scientists on Earth see this and the information gets passed up the chain of command.  In the White House, men in black suits are breathlessly running through the halls and burst into the Oval Office.  The President is behind the desk, back turned to the door, looking out the window.  One of the men tells the President, 'Sir, something's happened on the Moon!'  The President turns around…

… and it's John F. Kennedy."
Despite the cold opening being kind of cool, I'm still very apprehensive about the next film. I was a fan of the first film, in fact I thought it was a great summer blockbuster popcorn flick. It wasn't amazing, but it sure was enjoyable. The second film, however, took everything bad about the first film, and multiplied it.  Tons of throwaway characters, massive stereotypes, and lackadaisical action. Now with Megan Fox being replaced by Michael Bay, I'm not sure I'm sold on the series anymore. They are going to have a hell of a time explaining away the love interest of the first two films, and consequently replacing her with a new model.
Although, the biggest change I'm looking forward to is to the actual Transformers being a bit more of the plot this time around. Last film they were used as devices, rather than characters. The first film's best scenes were Sam's interactions with Bumblebee, and the second had no great moments like that, and instead focused on Bay's fetish for explosions.
So, can Tranformers be redeemed? Let us know in the comments!