MGM Gets Things in Order, Announces Release Date for Bond 23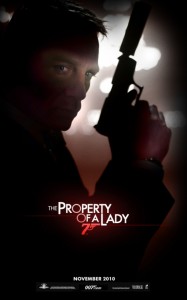 I grew up on James Bond.  My dad owns every single movie, and has a room in his house that is adorned with posters from various movies in the franchise.  It's awesome.  As a result, I get excited about anything Bond related that is new. 
Martin Campbell successfully rebooted the franchise for the second time with Casino Royale, which was my favorite Bond film.  Daniel Craig is arguably the best Bond since Sean Connery.  Unfortunately, Quantum of Solace was a cluster **** of as many actions scenes as you could cram into two hours.  But I did love the theme song by Alicia Keys and Jack White.  I couldn't wait for another film to come out to return to what Casino Royale started.
Then MGM ran into some money problems just as rumors started to fly about Sam Mendes directing and Rachel Weisz playing the villain.  There was a period when it was uncertain if we would even see Bond on screen again. 
The clouds have parted, and the sunlight is shining.  MGM has announced that not only will Daniel Craig return as Bond, James Bond, but Sam Mendes will be directing the film that will hit theaters November 9, 2012.   Daniel Craig will have a tight schedule this year.  He will be out promoting Cowboys and Aliens, Dream House, and The Girl with the Dragon Tattoo.
Check back here soon because I will be providing you all the details about the next film in the franchise.
(The poster shown was created by a fantastic artist who creates some amazing posters.  Check out his site here.)
What's your favorite Bond film?  Let us know in the comments below.