Meryl Streep In Talks to Play Margaret Thatcher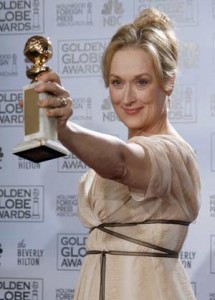 Meryl Streep is sure to have even more Academy Award nominations thrust on her, as she is in talks to play ex-British Prime Minister, Margaret Thatcher, in an upcoming film.  The film which is being written by Abi Morgan, will focus on the 17 days preceeding the Falklands War in 1982 that saw Thatchers approval numbers dip due to a number of factors. Thatcher actually made it through the conflict with flying colors, and earned enough approval for another term.
The Iron Lady is being produced by Damien Jones, and will reteam Streep with Mamma Mia! director Phyllida Lloyd. There is also talk of casting veteran British actor, Jim Broadbent, as Thatcher's husband Dennis.
On the surface it appears that this is being set up as another biopic modeled after The Queen, rather than tackling a biopic across a lifetime, they are instead focusing on a set point in the persons life to highlight their character. Streep is a bit of a old hand when it comes to biopics. She has award winning portrayals of  Julia Child, Susan Orlean, and Karen Silkwood under her belt. Who wants to bet on continuing a winning streak?
Let us know what you think about this story in the comments below!