"Men in Black 3" Trailer Starring Will Smith, Josh Brolin and Tommy Lee Jones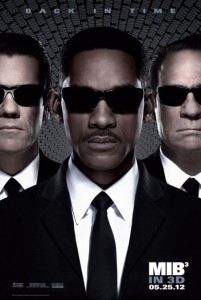 Synopsis: Agent J travels in time to MIB's early years in the 1960s, to stop an alien from assassinating his friend Agent K and changing history.
Starring:  Will Smith, Josh Brolin, Tommy Lee Jones
Directed By:  Barry Sonnenfeld
Genre: Sci-Fi, Action, Comedy
Release Date: May 25, 2012
My Take:  I am not the biggest fan of the franchise so I am not the right person to ask.  But the production has been a disaster, and that came from the director himself.  He admitted that it was a bad idea to go into production without a finished script.  I think it is safe to say that the highlight of this film will be Brolin's dead on Tommy Lee Jones impression.
[hdplay id=435 width=595 height=375]