Mel Gibson Sells His Connecticut Home for $24 Million Dollars!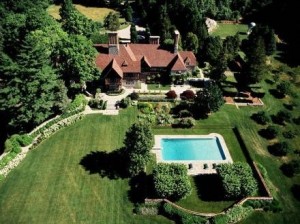 Who says good things don't happen to good people?  Right after more allegations come out about Mel Gibson, and his racist rants he manages to sell his stately manor in Connecticut for an astounding $24 million dollars. (Read about Mel's rant here.)
While $24 million might sound like a lot of money, it is a dramatic dive from the original listing price of $39.5 million. Gibson recently dropped the price tag down to a more reasonable $29.7 million. (HA!), so just a slight decrease of $5.7 million from the list price, not much at all right?
Gibson originally bought the 16,000 sq. ft. house, which sits on over 75 acres, in 1994 for $9.3 million dollars.
Want to make yourself feel a bit poor? Watch the video below detailing some of the features of Gibson's home. (I have to admit, the house is absolutely amazing looking.)