Mel Brook's YOUNG FRANKENSTEIN is Alive! Opening at the Fox Theatre in St. Louis Tomorrow Night!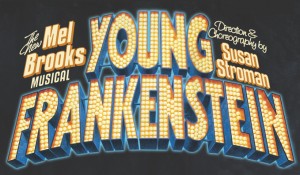 The newest Mel Brooks Musical, YOUNG FRANKENSTEIN, opens tomorrow night at the Fabulous Fox Theatre in St. Louis! With shows from May 11 to May 23, make sure you don't miss it!
YOUNG FRANKENSTEIN is brought to us from the same creative team as THE PRODUCERS, which has won 12 Tony Awards among various other achievements. From three-time Tony Award winners Mel Brooks and Thomas Meehan, with music & lyrics by Brooks, the show is sure to please audiences everywhere. YOUNG FRANKENSTEIN is directed and choreographed by five-time Tony Award winner Susan Stroman, with musical supervision by Glen Kelly.
The show was adapted by Mel Brooks from his popular 1974 film, YOUNG FRANKENSTEIN. When Frederick Frankenstein, an esteemed New York brain surgeon and professor, inherits a castle and laboratory in Transylvania from his grandfather, deranged genius Victor Von Frankenstein, he faces a dilemma. Does he continue to run from his family's tortured past or does he stay in Transylvania to carry on his grandfather's mad experiments reanimating the dead and, in the process, fall in love with his sexy lab assistant Inga. Unfolding in the Castle Frankenstein and the foggy moors of Transylvania Heights, the show's raucous score includes "The Transylvania Mania," "He Vas My Boyfriend" and the unforgettable treatment of Irving Berlin's "Puttin' On the Ritz."
For more information about YOUNG FRANKENSTEIN, visit the official website at youngfrankensteinthemusical.com.
---
YOUNG FRANKENSTEIN is playing at the Fabulous Fox Theatre in St. Louis from May 11 to May 23! To purchase tickets, visit the Fabulous Fox website at fabulousfox.com, or visit Metrotix.