Martin Freeman Cast as Bilbo Baggins in Peter Jackson's "The Hobbit"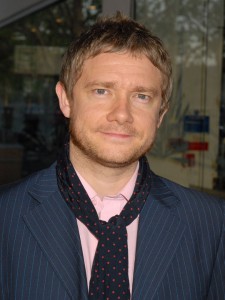 Now that the film has been officially greenlit, and the unions are retracting their strikes of the production, casting can finally get underway. For the past couple years people have been trying to guess who would fill the role of Bilbo Baggins, and plenty of names came up, but the person who ended up with the role was British actor Martin Freeman.
"Despite the various rumours and speculation surrounding this role, there has only ever been one Bilbo Baggins for us," said director Peter Jackson.
MGM, New Line, and Warner Bros., who are all producing the film, also revealed who would be playing the dwarves who follow Bilbo along his quest.  Richard Armitage has been cast as Thorin Oakenshield, Graham McTavish as Dwalin, Stephen Hunter as Bombur, Mark Hadlow as Dori, John Callen as Oin, Peter Hambleton as Gloin, and Aidan Turner and Rob Kazinsky as Kili and Fili.
Although the cast list is pretty well rounded out, the place of shooting is not. Jackson had originally wanted to film the series in New Zealand, his home and place where Lord of the Rings was shot. However, Jackson has run into a number of problems with the unions, and is now considering moving the production.
"The actions of these unions have caused us substantial damage and disruption and forced us to consider other filming locations for the first time," a statement from the studios said. "Alternative locations are still being considered."
If I had to wager, I'd bet the films continue to be shot in New Zealand. The unions have realized that by strong arming the biggest production in their country, they might have scared it off, and most of them are currently recanting. I also have trouble believing Jackson would leave behind New Zealand, especially since some of the sets have already started their rebuilds, including the Shire. Although, the film could easily move to the UK….
What do you think? Let us know in the comments!