Review: Mamma Mia, Here I Go Again (to the Fox Theatre in St. Louis)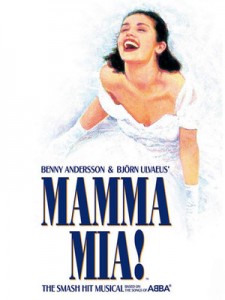 Without a doubt, one of the most fun shows you can see live is Mamma Mia! You just can't beat the energy of the ABBA music, being performed right in front of you by talented musicians, with vocals from an extremely talented cast. It's like going to a rock concert and a musical, all at once. And that is why Mamma Mia! has been seen by over 60 million people over the past 16 years, making more than $2 billion dollars worldwide.
Most theatre-goers will be familiar with the story (which was also turned into a film starring Meryl Streep, Amanda Seyfried, Colin Firth, Pierce Brosnan, and Stellan Skarsgård) of Sophie (Kyra Belle Johnson), a 20 year old bride-to-be, searching for her father to give her away at the wedding. The problem is that she's never met him, and doesn't even know who he is. Her mother Donna (Erin Fish) has never spoken of him, keeping her memories in a diary that has been locked away for the past two decades. That is until Sophie finds it, uncovering that her father could be one of three men who Donna had a summer fling with: Sam (Chad W. Fornwalt), Bill (Ryan M. Hunt), or Harry (Andrew Tebo). It seems the only way to get her dad to the wedding is to invite all three prospects to the island where she lives, ensuring at least one of them will do the job.
I've probably seen Mamma Mia! more than any other live show, and it is no mystery as to why. Unless you aren't a fan of ABBA or 70s music, there isn't a much better way to spend a few hours that I can think of. Song after song, hit after hit, the music takes you to another era, as the fantastic sets transport you to the intimate greek island.
Erin is fantastic as Donna, a strong and independent woman who never thought she would see any of the three men who spontaneously appear at her hotel. She hasn't needed a man in years, and is doing just fine, until they are brought back into her world. Not only does she do a fantastic job with the internal struggle which Donna faces, but also has a terrific voice. There is a lot going on in the show, constantly, and the actress handles it all with ease.
Kyra Belle Johnson is wonderful as the young and innocent Sophie, who naively brings three men Donna couldn't wait to forget into their lives, forcing both of them to deal with a plethora of emotions – full of plenty of ups and downs. Johnson is bright, and chipper, optimistic and hopeful, with a beautiful voice.  Her portrayal of Sophie is perhaps one of my favorites from all of the shows I've seen, as the delightful young actress lights up the stage.
All three of the "dads" were great, providing many of the laughs in the show, along with the entire ensemble. It's easy to tell that this group is full of seasoned professionals, and there is a reason that they are a part of the national tour.  Everyone in the show did a terrific job with the singing and choreography – the latter being another reason why the show is so fun.  One of my favorite parts of the show is still during the number "Lay All Your Love On Me," which starts as a romantic number between Sophie and her fiancé Sky (Stephen Eckelmann) – but quickly turns into a bachelor party kidnapping by all the guys in the ensemble. It's such a fun song and dance to see live, and has the audience cracking up every single time.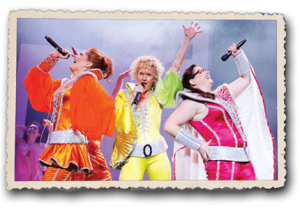 I'd be remiss if I didn't mention Donna's two best friends who come along for the wedding: Tanya (Laura Michelle Hughes) and Rosie (Sarah Smith). The two have fantastic chemistry together, as they help lighten the mood when their friend needs them most. The two are hilarious, causing the theatre to erupt with laughter consistently when they appear on-stage.
Mamma Mia! is one show that I can't help but to see any time it comes to town. I think it is near impossible to see such a fun show, with the fantastic music and performances, and not have a smile on your face. Looking around the beautiful Fox Theatre in every direction, there were groups of people – young and old – dancing, singing, and having a fantastic time. The show just closed on Broadway this past September, after 14 years – making it the eight longest running show in history.  It's a show you definitely don't want to miss when the national tour comes through your town!